From an avenue of first impressions to a personification of a building's identity, the lobby's design holds paramount importance. In this realm of space-shaping, LED panels have emerged as a contemporary, creative, and captivating tool. Infusing LED panels into your lobby design can illuminate the ordinary, transforming it into an extraordinary sensory experience. We delve into seven spectacular ways you can enrich your lobby with the magic of LED panels, thereby creating spaces that narrate stories through light and shadows.
The Canvas of LED Panels in the Lobby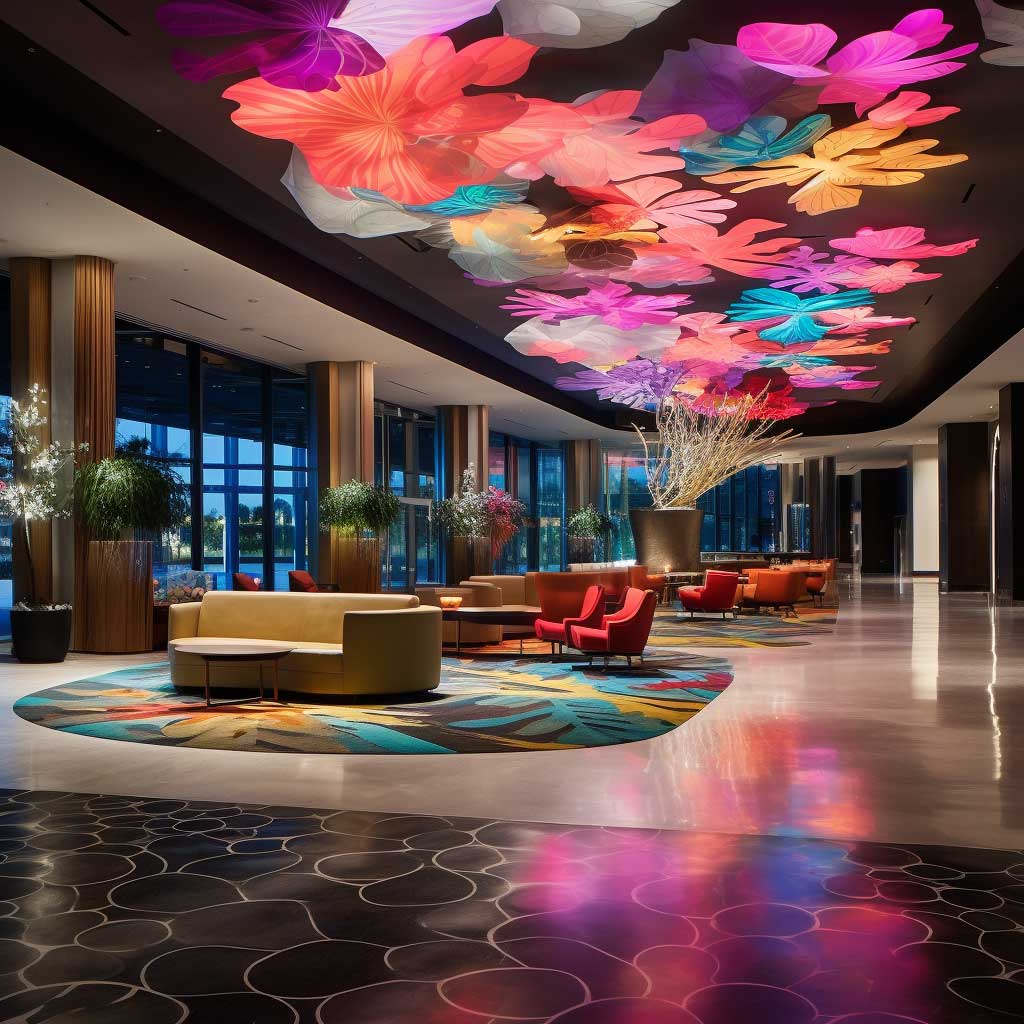 A lobby, when adorned with a canvas of LED panels, is akin to a living, breathing piece of modern art. The harmony of light and color orchestrated by LED panels can lend your lobby a sense of dynamism and vibrancy that static elements seldom can. This led panel design for the lobby combines the sophistication of technology with the elegance of art, transforming your lobby into a visually delightful gateway.
A visitor stepping into your lobby would be greeted by an array of lights dancing across the LED panel canvas, mimicking the fluidity of the Northern Lights or the rhythmic patterns of a kaleidoscope. This visual performance sets the stage for an enchanting experience, making the first interaction with your building nothing short of memorable.
From abstract patterns that evoke intrigue to digital landscapes that inspire awe, the design possibilities with LED panels are virtually limitless. Owing to their ability to display a myriad of colors, these panels offer a broad palette to play with. Whether you opt for a tranquil celestial display or a high-energy light show, your lobby would embody an atmosphere unique to itself.
LED panel designs for the lobby aren't confined to static displays. With the right software, they can transform into dynamic, animated murals. Imagine a visual narration of the day's cycle, with a gentle sunrise that gradually transitions into a bright noon, and finally settles into a calm, starry night. This subtle play of light and colors can accentuate the ambiance of your lobby, making it a space that's alive and interactive.
Beyond their aesthetic appeal, LED panels are also an environmentally conscious choice. They consume less power and have a longer lifespan than traditional light fixtures, making them a sustainable addition to your lobby design. Moreover, their slim design and easy installation make them a convenient choice for large scale installations.
In the dance of light and colors, LED panels in your lobby design create a performance that is hard to ignore. They turn your lobby into a dialogue between art and technology, leaving an indelible impression on every visitor's mind. As they continue to illuminate spaces with their brilliant display, one thing is certain: LED panels are revolutionizing the way we perceive and interact with lobbies.
The LED Panel Sky Ceiling in the Lobby
Looking up at the ceiling, you might find yourself entranced by a sparkling night sky, each star shimmering in its own rhythm. It's a spectacle that invites admiration, a spectacle brought to life by LED panel design in the lobby. The use of LED panels to recreate the celestial expanse elevates the lobby's atmosphere, converting it into an immersive space that fascinates the observer and kindles their imagination.
The sky is a canvas of infinite beauty and limitless possibilities, and recreating it in a lobby using LED panels is an innovative and awe-inspiring design concept. The patterns and intensity of the starry display can be customized to suit the desired ambiance of the lobby. For instance, the LED panels can simulate the gentle glow of the Milky Way for a calming atmosphere or a vibrant display of a meteor shower for a more dynamic environment.
The LED panel sky ceiling not only acts as an artistic installation but also serves a functional purpose. The intensity and color temperature of the light emitted from each panel can be controlled independently, allowing you to fine-tune the illumination of the lobby to perfection. During the day, the panels can mimic natural daylight, providing a bright and welcoming environment. As evening approaches, the panels can simulate a warm, cozy sunset glow, gradually transitioning into a tranquil starlit night, creating an environment that adjusts with the day's cycle.
The combination of artistic and functional lighting in LED panel design for a lobby enhances the usability and appeal of the space. It's an innovative way to greet guests, leaving a lasting impression on them as they navigate through the building. The sky ceiling creates an atmosphere of openness and infinity, making the lobby feel larger and more inviting.
Furthermore, LED panels are known for their durability and energy efficiency. They consume significantly less power than traditional lighting fixtures, reducing the environmental impact of the building. The LED panels' long lifespan ensures that the mesmerizing sky display can illuminate the lobby for years without requiring frequent maintenance or replacements.
The LED panel sky ceiling is more than just a beautiful lobby design element; it's an experience. It engages the visitors, inviting them to immerse themselves in the celestial spectacle unfolding above them. Every look upwards becomes a moment of surprise and delight, an interaction with an ever-changing, ever-dazzling sky.
With LED panel designs in the lobby like the sky ceiling, we're not merely talking about aesthetic innovation; we're talking about redefining the very idea of what a lobby can be. No longer is it just a transitory space; it's a destination in itself, a place that tells a story, that leaves an indelible imprint on the observer's mind. It's a testament to the magical intersection of technology, design, and imagination.
Interactive LED Panel Walls in the Lobby
Upon entering a lobby, imagine the walls coming alive with waves of colors rippling across as you walk by. This exciting interplay of light, color, and motion, brought to life by interactive LED panel design in the lobby, blurs the boundaries between the observer and the observed, transforming the lobby into a lively, engaging space.
The heart of this interactive LED panel installation lies in its ability to respond to movement. Equipped with sensors that detect the motion of visitors, the panels trigger a cascade of colors and patterns that flow across the wall. This interactive experience turns every visitor into an unwitting artist, their movements painting a vibrant tableau on the LED panel canvas.
Whether it's a kaleidoscope of colors that swirls in response to movements or waves of light that ripple across the panels, the interactive LED wall can be programmed to create a variety of visual effects. Not only does it entertain visitors, but it also sparks their curiosity and encourages exploration. With each movement, the LED panel design in the lobby morphs into a new visual spectacle, making every visit to the lobby a unique experience.
Beyond its playful and engaging aspect, an interactive LED panel wall can also serve as an innovative tool for communication. For instance, it can be programmed to display welcome messages or directional signage that guides visitors through the building. During special events or holidays, the wall can morph into a thematic display, enhancing the festive atmosphere of the lobby.
The implementation of interactive LED panel design in a lobby also demonstrates a commitment to cutting-edge technology and sustainability. LED panels are renowned for their longevity and energy efficiency, making them an eco-friendly choice for large-scale installations. Furthermore, their slim design and versatility make them suitable for a wide range of lobby spaces.
The interactive LED panel wall in a lobby does more than just illuminate the space; it brings the lobby to life. It tells a story of innovation, engagement, and artistry. It's a celebration of the limitless possibilities of LED panel design in a lobby, a testament to how technology can transform a space and create captivating experiences.
Conclusion
In the world of lobby design, LED panels are making waves with their versatility, aesthetics, and eco-friendliness. By incorporating LED panels in your lobby, you can create mesmerizing displays that can evoke emotions, tell stories, and leave lasting impressions. From a canvas of LED panels and a sky ceiling to interactive LED walls, these innovative solutions can redefine the lobby experience, making it a destination in itself.