When you want to live in a modern environment, but feel the flavor of a cozy, traditional home, you have to combine these concepts. Small pretty houses reflect the concept of integrating classical motives into modern architecture.
Here you can feel the atmosphere of silence, peace, enjoy seclusion. But at the same time, you are in an ergonomic, modern space that corresponds to the current trends in architecture and design.
Small pretty houses in the form of a single object
The first step to interweaving traditional and modern is to build interconnected beautiful small cottages like a micro-town instead of one big house. Each of the buildings has its own function – communication, work, spending time with family, recreation, games. The three houses are connected by passages, but each of them has its own exit to the courtyard, so they can be used independently of each other.
At the same time, each house has a modern, minimalistic environment with an emphasis on eco-style. Natural materials, cozy natural tones, light and open space. Wide windows and doors, terraces and practical panoramas guarantee modern comfort.
The privacy of beautiful small cottages
The buildings are designed to appear independent from each other. The view windows of the houses go out in different directions. This not only changes the view, and allows you to see a different picture from each building, but also visually localizes the buildings from each other. At the same time, panoramic windows provide high-quality insolation, saturation of the space with fresh, clean air directly from the forest.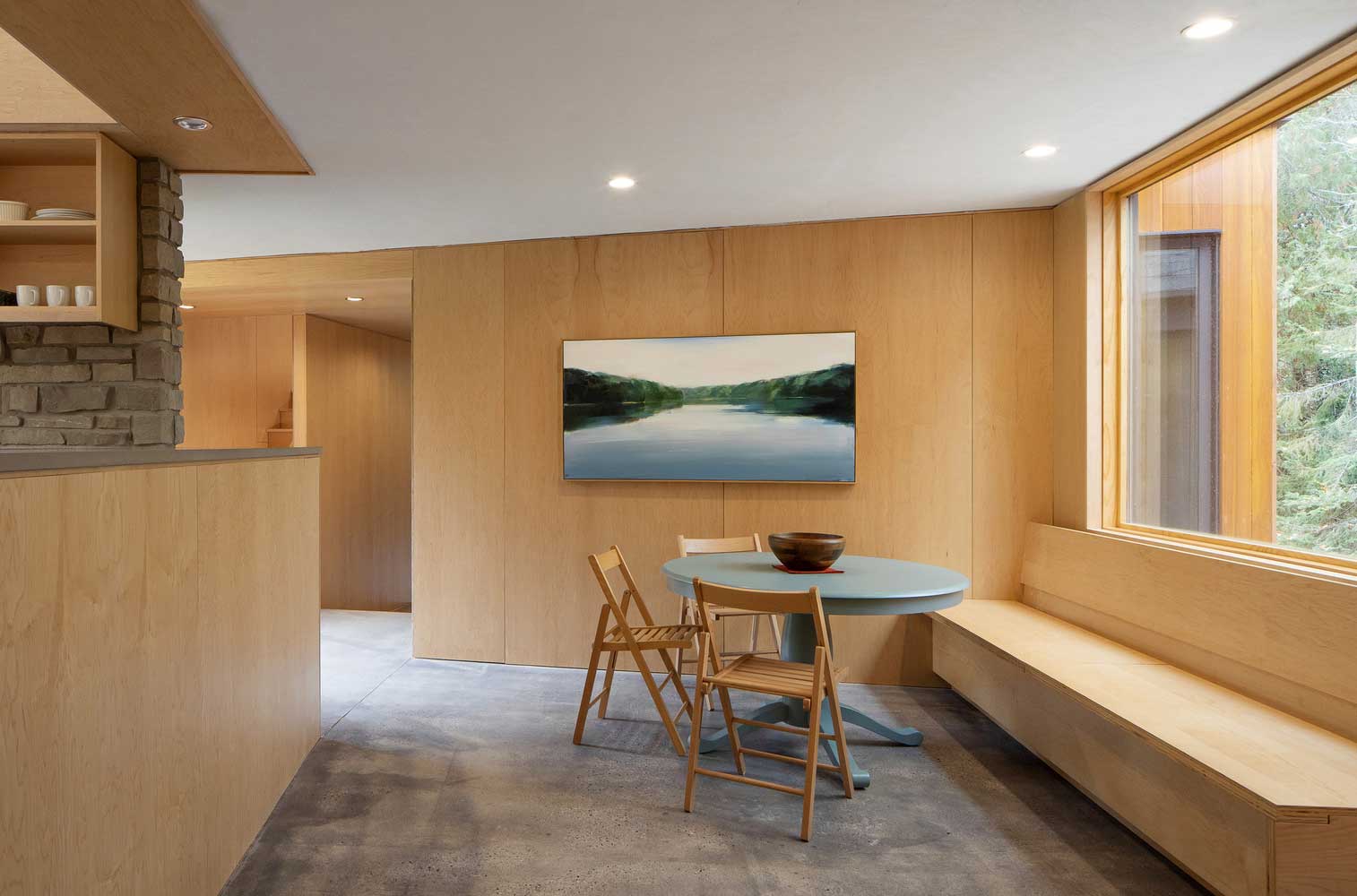 In general, the cottage of several secluded independent buildings resembles a rural settlement, a traditional community. You can feel a special comfort and atmosphere here. The following feature also adds color – utility, public spaces, and the kitchen are, as it were, separate from the main dwelling in which the owners rest. It gives the impression of being in a classic agricultural courtyard. But at the same time, all the design here is in line with the latest trends.
Small pretty houses with modern design
The design is closely intertwined with traditional motives and the latest trends, which guarantees the special comfort and atmosphere of classic living. The high roof, finished with flexible tiles, fits perfectly into the natural landscape. The atmosphere is also emphasized by the wall decoration with natural wood.
Inside, modern ideas, furniture, minimalistic furnishings are also realized exclusively from natural, traditional materials. We get an ergonomic space with a touch of classic design.
In addition to the appearance, beautiful small cottages are comfortable, since the materials used ensure the good performance of the housing. The facility is distinguished by its energy efficiency, pleasant microclimate, useful, clean environment.