Classical architecture has always remained popular, and a small frame country house with a red facade and roof from the Swedish architectural firm Söderberg Söderberg is presented to prove this. An obscenely simple design, compact size and compliance with the features of traditional housing construction are played up with notes of fashionable design.
Consider the techniques that help architects to keep the classics relevant for centuries.
The severity of lines and proportions intersecting with modernity
A small frame country house looks like a painted one. It clearly traces the observance of traditions, preservation of the atmosphere of home warmth and comfort. A smooth gable roof, proportional windows and doors emphasize the authenticity of classic motifs.
The house has become a decoration of the site. It looks neat, well-groomed and at the same time brings the residents into an atmosphere of calmness and tranquility. Modernization of window openings with glazing into the floor was carried out without breaking symmetry and proportionality. This, in turn, emphasized its belonging to modern architecture.
Openness on the verge of comfort
This is a modern house, so it is made more open than the classic housing of the past centuries. But at the same time, the architects managed to preserve the primitive atmosphere of the hearth. This is partly due to the construction material – the house is made of natural wood.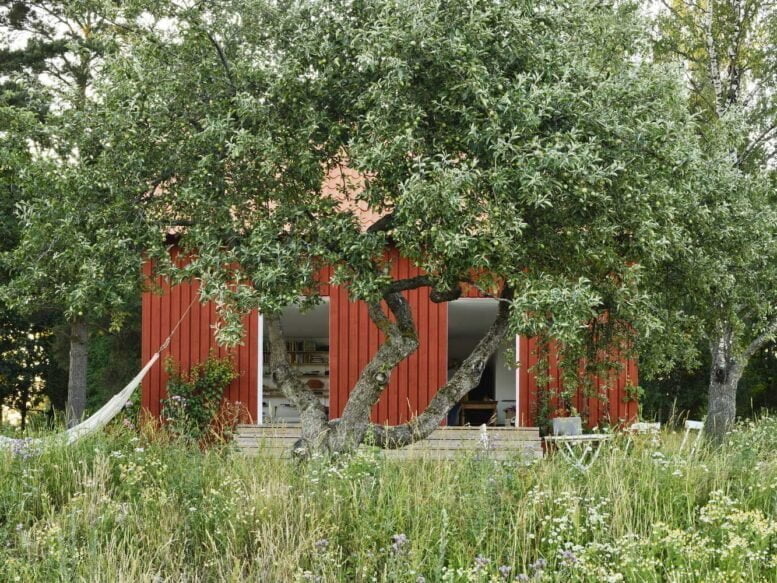 Sliding glazing, although it leads directly to the street, allows you to literally integrate the interior space with the surroundings – this is done quite privately. Directly from your home you find yourself in a green garden, behind which is a meadow and forest. Due to this reception, the house became open, but only for residents, thereby giving them the opportunity to get closer to nature in their own garden, comfortably and confidentially.
Classic palette in a new light
A frame country house with an attic is externally completely painted in dark red. These colors are typical for traditional local buildings. But they were used in a rather metered manner, and here we see a fashionable, modern monotony with light accent elements in the form of white window borders. The charm is given by a massive contrasting black chimney and door.
The austere, compact frame country house with a red facade and roof reflects traditional architecture. But at the same time it remains comfortable for summer vacations today.