Former walls, pitched thatched roofs and eco-tech are the main building guidelines for the resort village of St. Francis Bay in southern Africa. Another project of the architectural bureau Bert Pepler Architects was implemented here in accordance with the peculiarities of local architecture, flora and fauna.
The bungalow-style mansion with rustic motives in a modern manner harmoniously blended with the local development and nature. This is a London family summer residence. All 753 sq. m of area are thought out to ensure a comfortable vacation near the river.
thatched roof house – environmental friendliness and comfort
The house combines the features of a traditional local farm and a fishing lodge, but according to local standards, it was built a little further from the coast – the minimum distance from the river is 20 meters. As an alternative to the reservoir, a swimming pool is built in the yard.
The main feature of tradition is a gable roof made of thatch, designed in a modern manner. Minimalist design, flowing lines – the structure of straw and poplar beams looks like an upside-down boat.
Tightly compressed straws form a durable, sustainable and practical material. It keeps the house cool in hot weather, creates the effect of a thermos. The straw roof breathes, due to which there is always clean, fresh air in the cottage, the effect of a greenhouse is not created. The flame retardant treatment protects the material from fire, while the straw remains environmentally friendly and non-toxic.
thatched roof cottage – proximity to the eco-flow of the interior and exterior
The architects tried to play the object as harmoniously as possible surrounded by local nature. This trend starts from the yard. It is planted with local herbs and bushes. The landscape design matches the exotic nature of the resort village by the river.
Wood on the facades, natural finish, thatched roof also emphasize the eco-technology. Further, the style continues inside the house – wooden furniture and structures, natural textiles, natural materials in decoration. Particularly noteworthy is the ceiling, which repeats the shape of the rafter system. The rafters are left open here, which is typical of traditional local housing.
Details such as wooden beams and straw lamps that match the design of the roof help to enhance the atmosphere. The atmosphere in the house is relaxed, light and calm.
modern thatched roof houses – smooth transition of external to external spaces
The house consists of open and simple buildings. The exotic thatch roof rests on eucalyptus columns at the transition from indoor to outdoor. Here, peculiar pavilions are formed from natural materials, which can be almost completely opened by combining housing with the natural environment. The perfect place to relax outdoors right at home.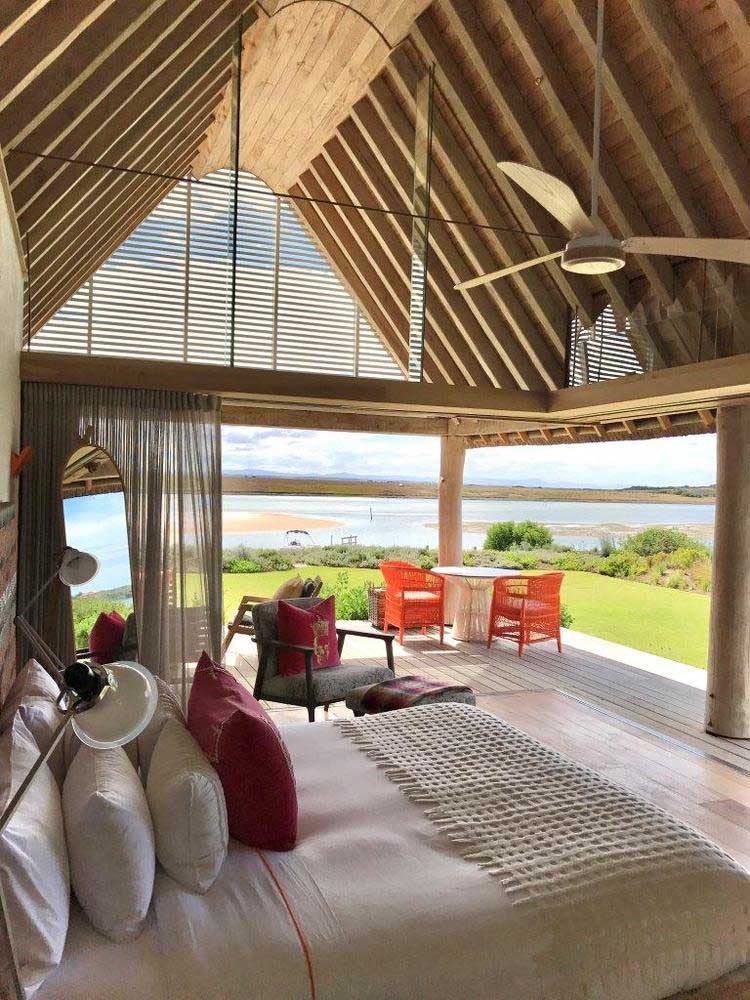 Thus, the main features of the cottage from Bert Pepler Architects are an eco-friendly thatch roof, the integration of the object into the local nature and the close connection of the interior spaces with the exotic African village on the river bank.