Simplicity in design does not imply a lack of depth or appeal. Especially when it comes to the vibrant and culturally-rich domain of Indian aesthetics, simplicity can create a profound impact. This article delves into various simple Indian bedroom interior design ideas that merge the minimalist approach with traditional Indian elements. These design ideas provide a perfect blend of modern style and cultural authenticity, aiming to create spaces that are as comfortable as they are aesthetically pleasing.
Tranquil Simplicity in Indian Bedroom Interior Design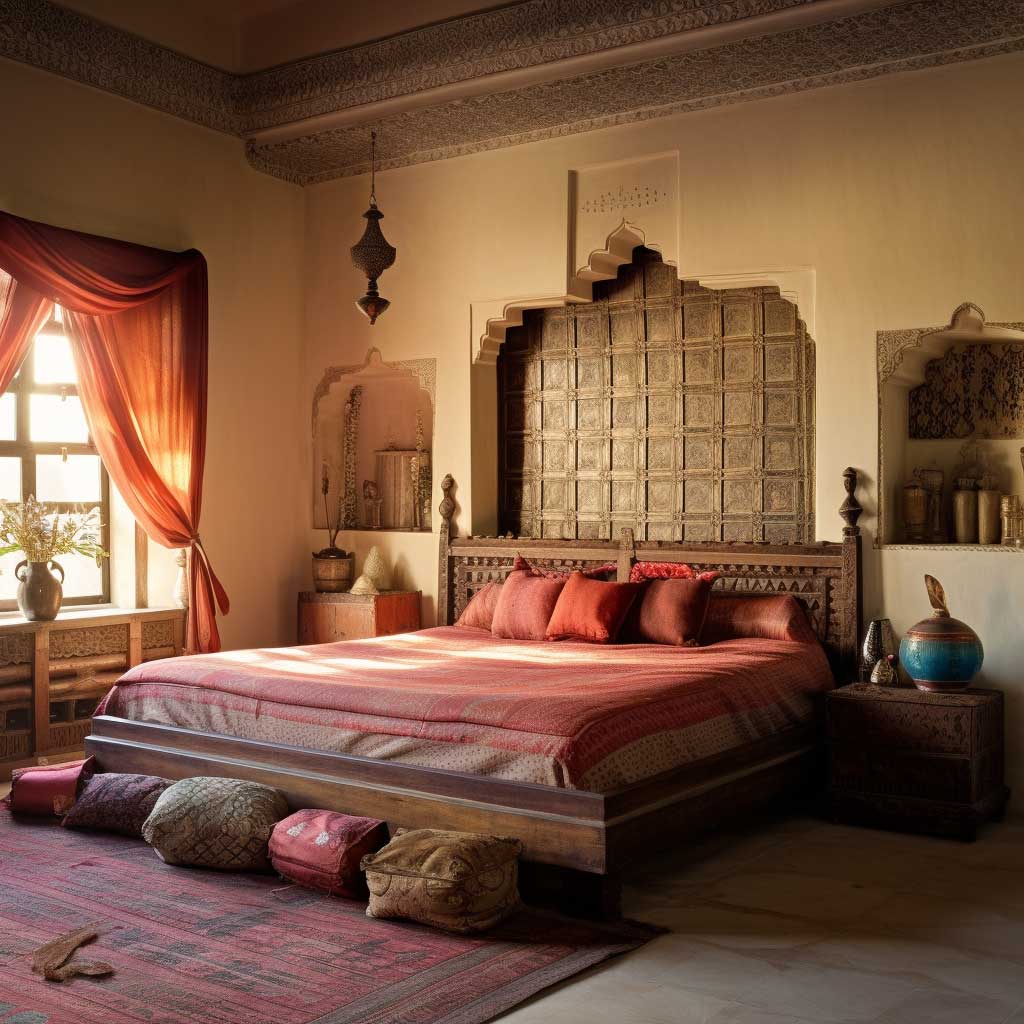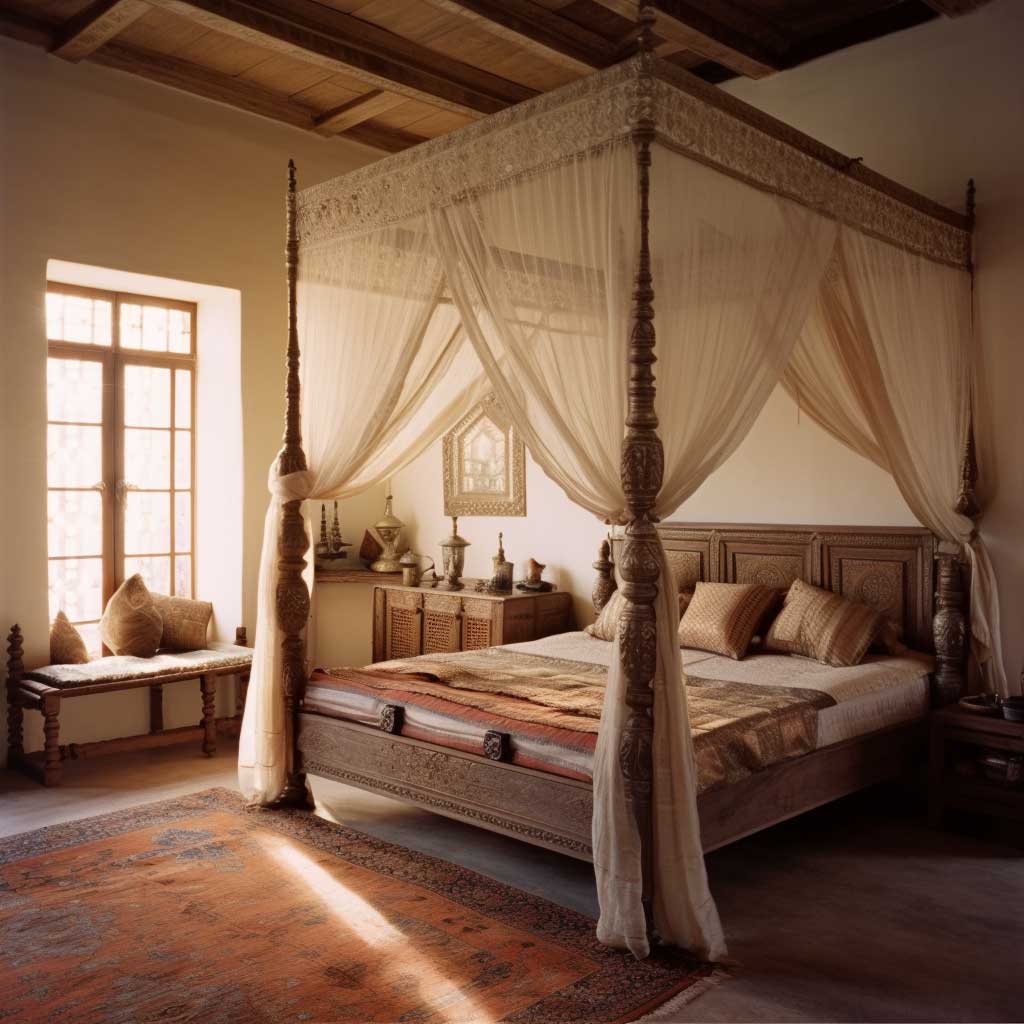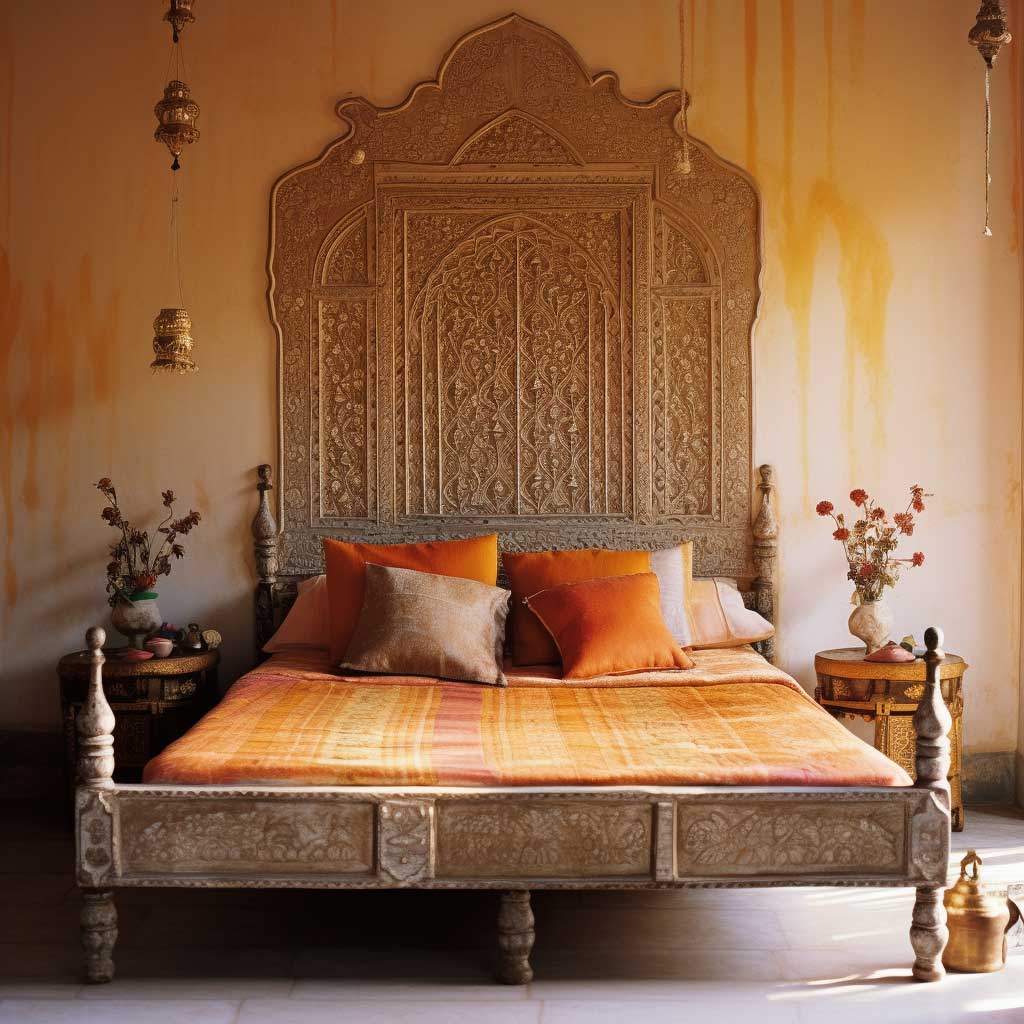 The first image presents a bedroom that beautifully marries the charm of Indian aesthetics with the clarity of simple design principles. This tranquil sanctuary is a testament to the notion that simple designs can hold a profound, evocative appeal.
At the heart of the room is a comfortable, low-lying bed dressed in linen of earthy tones. The color palette, predominantly made up of warm browns and muted oranges, mirrors the vibrant colors often found in traditional Indian homes. Despite its simplicity, the bed exudes a sense of welcome and comfort, inviting one to rest and rejuvenate.
Handcrafted wooden furniture is a key feature in this bedroom, adding an authentic touch to the space. A sleek, wooden side table, a traditionally carved wooden chest at the foot of the bed, and a classic Indian 'charpai' or woven bed used as a seating area, all contribute to the room's rustic charm.
Against one wall, a beautifully adorned tapestry, displaying traditional Indian motifs and intricate detailing, draws attention. This nod to Indian artistry introduces a splash of color and pattern to the room, serving as an intriguing focal point without overpowering the simplicity of the design.
Another captivating feature is the room's lighting. An elegant, lantern-style lamp hangs from the ceiling, casting a warm, soft light that enhances the room's soothing atmosphere. This choice of lighting, which borrows from traditional Indian interiors, infuses an old-world charm into the space.
In conclusion, this photograph epitomizes how simple Indian bedroom interior design ideas can create a serene, inviting space. It shows that with a thoughtful selection of colors, furniture, and accessories, one can create a room that radiates tranquility, while remaining firmly rooted in the richness of Indian aesthetics.
Modern Elegance Meets Indian Charm in Bedroom Design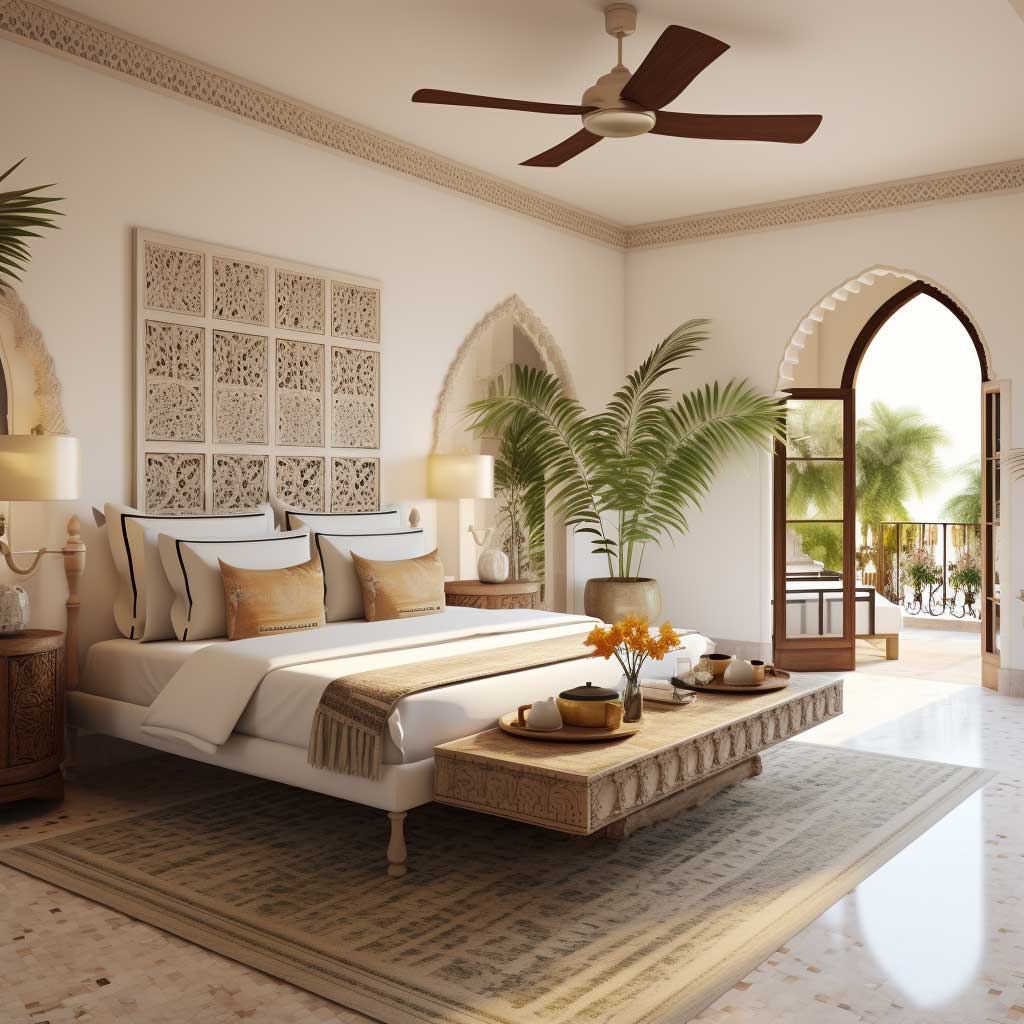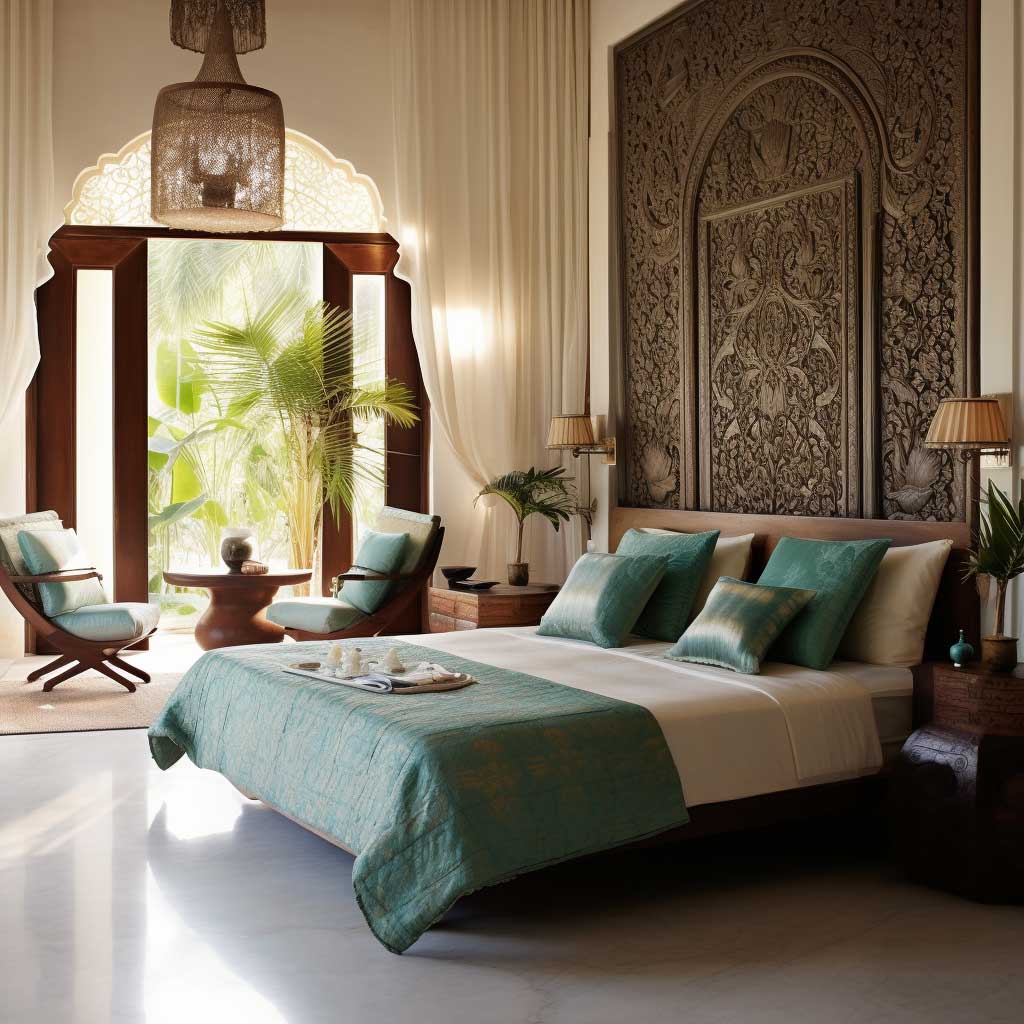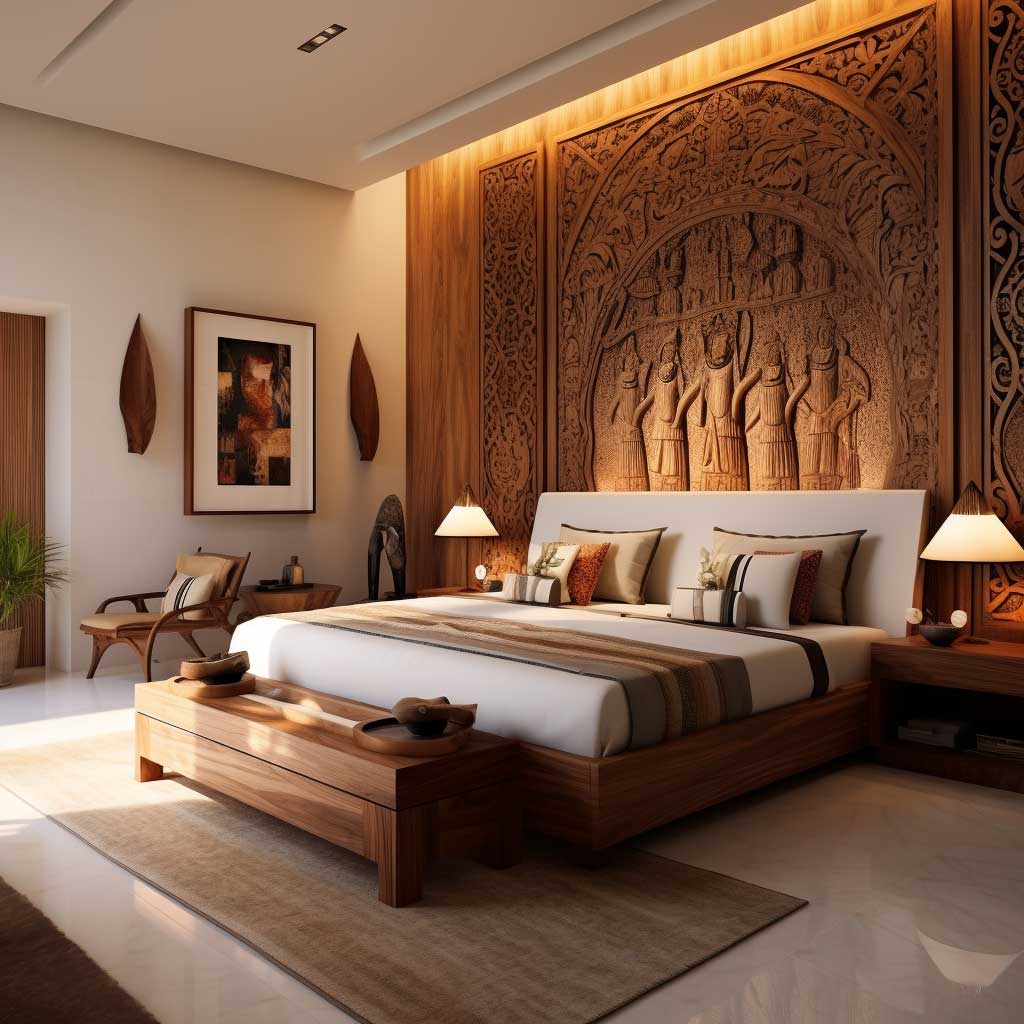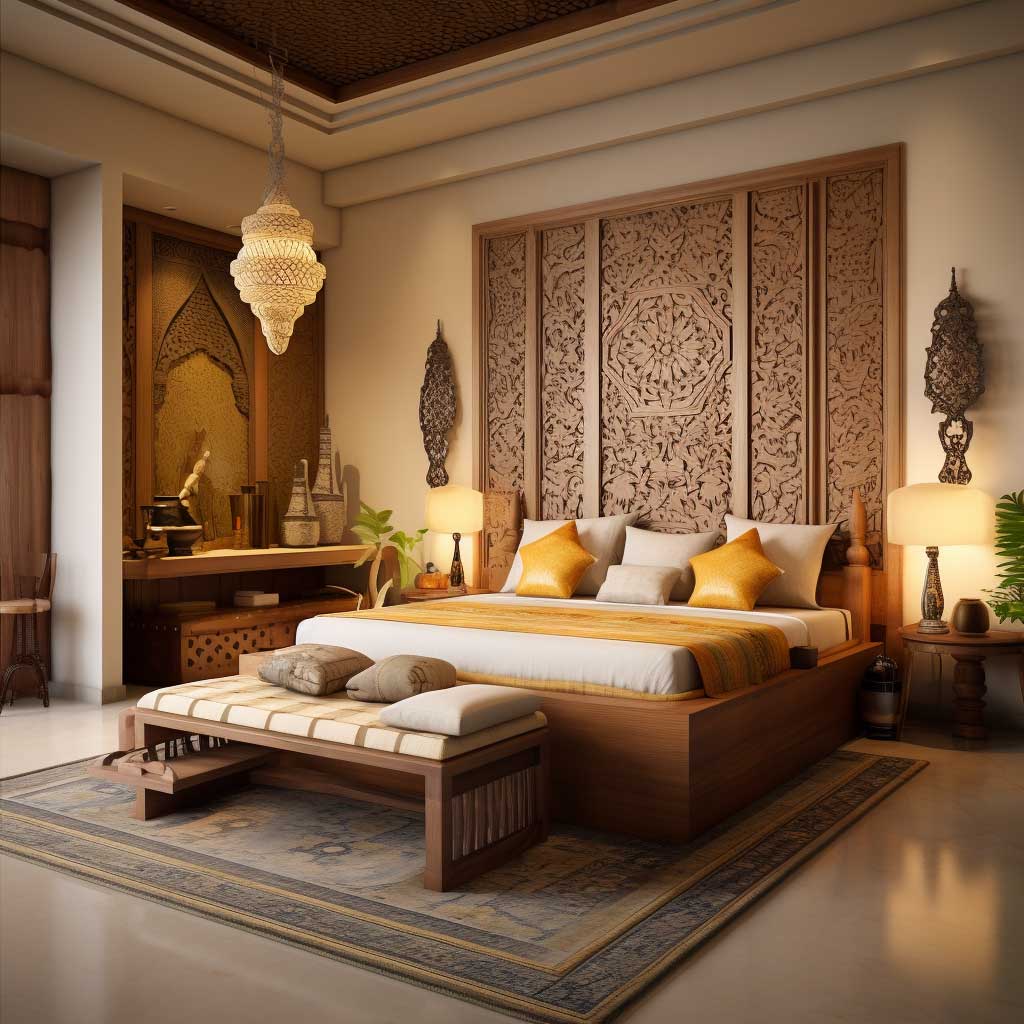 The second image captures a bedroom that exemplifies a harmonious blend of modern elegance and Indian charm. This room demonstrates that simplicity and cultural authenticity can coexist to create a unique and visually appealing space.
The room is dominated by a large, modern bed, adorned with crisp white linens and contrasting dark-colored pillows. The simplicity of the bed design is offset by a headboard adorned with traditional Indian embroidery, providing an element of cultural richness and color.
In one corner of the room, a modern floor lamp stands tall, its simple design complementing the room's minimalist aesthetics. However, the lamp's shade features a traditional Indian block print pattern, thus marrying contemporary design with cultural tradition.
The walls, painted in a neutral shade, serve as a backdrop for Indian-themed artwork. Minimal yet tasteful, these art pieces introduce subtle hints of Indian culture and color to the room. Their placement is simple and strategic, avoiding clutter while ensuring visual interest.
A plush, hand-woven Indian rug covers part of the wooden floor. The rug, featuring traditional Indian geometric patterns, infuses a touch of Indian heritage into the room, its vibrant colors and rich textures adding depth and warmth.
In summary, this room brilliantly showcases how one can incorporate simple Indian bedroom interior design ideas into a contemporary setting. By combining modern elements with traditional Indian accents, this bedroom creates a design narrative that is simple, elegant, and deeply rooted in Indian aesthetics.
Zen-Like Simplicity in Indian Bedroom Design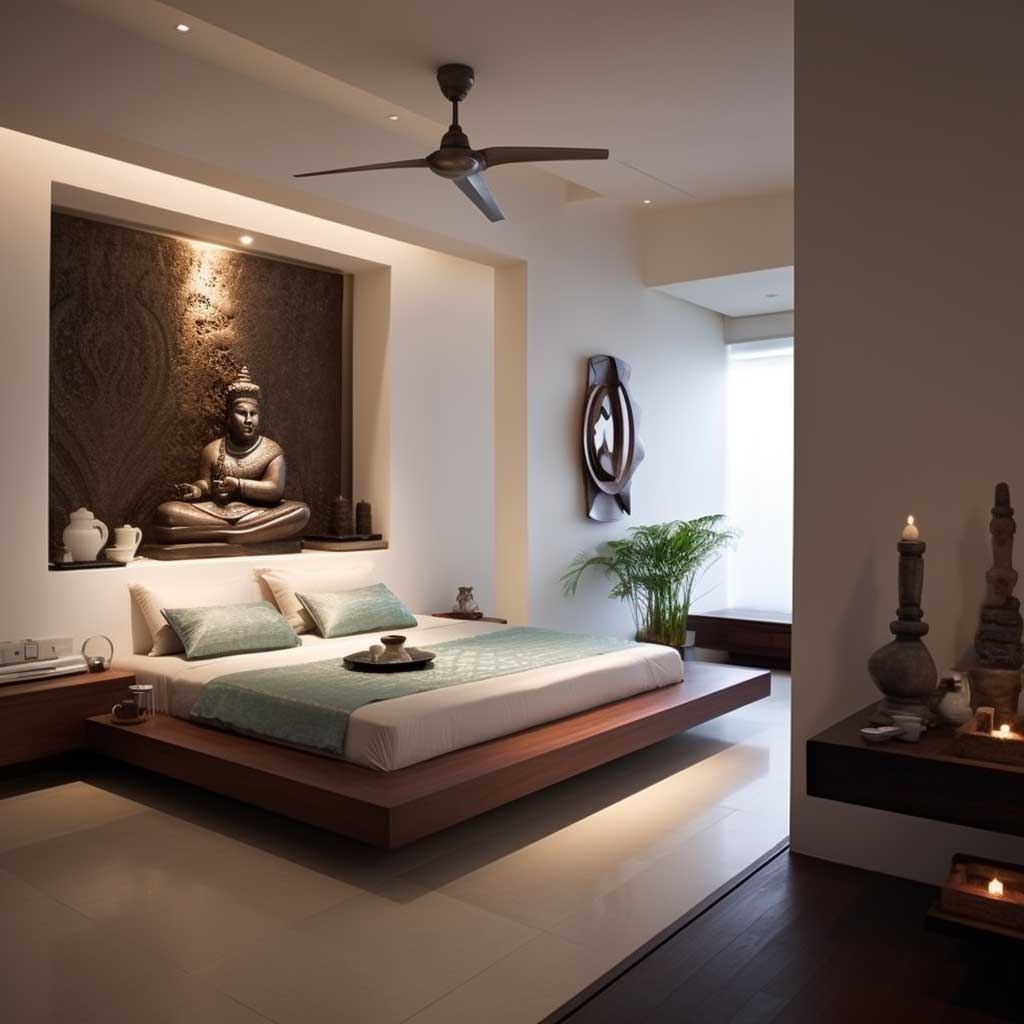 The third image introduces a simple Indian bedroom design that embodies zen-like tranquility and minimalism. This design exemplifies the concept of 'less is more', creating a peaceful haven that allows the beauty of Indian aesthetics to shine.
In the center of the room is a minimalist platform bed, adorned with fresh white linen and a select few soft pillows. The simplicity of the bed design does not detract from its comfort or style, but instead enhances the calm, uncluttered feel of the room.
Against the backdrop of neutral walls, a single, meticulously chosen piece of Indian art stands out. This piece, featuring a serene Buddha portrait, adds a symbolic and visual depth to the room without disrupting its minimalist aesthetics.
A distinct feature in this room is the use of natural elements. A potted indoor plant sits in one corner, adding a touch of vitality and freshness to the space. Furthermore, a bamboo curtain at the window adds a textural contrast to the smooth walls and softly filters in daylight, enhancing the room's tranquil vibe.
The room is furnished with a low, streamlined wooden cabinet, its design drawing inspiration from the simplicity of Indian village homes. This piece of furniture not only adds to the room's minimalist aesthetic but also provides practical storage space.
In conclusion, this image displays a simple Indian bedroom interior design that focuses on tranquility and minimalism. By emphasizing fewer, more meaningful elements and drawing inspiration from Indian aesthetics, this bedroom offers a peaceful retreat that invites rest and relaxation.