Exterior house painting is one of the most important and visible elements of your home's aesthetics. Choosing the right color scheme based on existing elements and accents can make a huge difference in the overall look and design of your house. Combining brown and green color variations in the exterior painting can help you create a more natural, elegant, and soothing atmosphere outside your home. In this article, we will walk you through all that you need to know about using these two shades for your exterior house colors so you can find the best one for your home!
Choosing the Right Exterior Paint Colors for Houses with Brown Roofs
A brown roof house can look complex when it comes to choosing colors for its exterior walls. However, with the right knowledge, you can easily pick the right colors that will create a stunning look.
The colors that go with a brown roof house depend on factors such as the style of the house and its overall color palette. For some homes, using warm colors such as brick red, golden yellows, and terracotta give off an inviting feeling. Some lighter shades like eggshell blue, creamy yellows, and light green can also enhance the beauty of your home's exterior.
So if you want to choose exterior paint colors for your house with a brown roof, consider these pointers carefully before deciding on any color to ensure you get the perfect home look!
How To Bring Out the Warmth of a Brown Roof with Green Accents?
Brown roofs offer a warm and inviting look to any home, but they can become predictable and dull-looking quickly. To make your brown roof stand out and look more vibrant, contrast it with green accents. Green is a natural compliment to the shades of brown, adding life and contrast that will give your home an eye-catching charm.
By choosing the right shade of green to match your brown roof color, you can create an inviting space that feels fresh and modern. Bringing out the warmth of a brown roof with green accents is a great way to add sophistication and style to your home's outdoor design!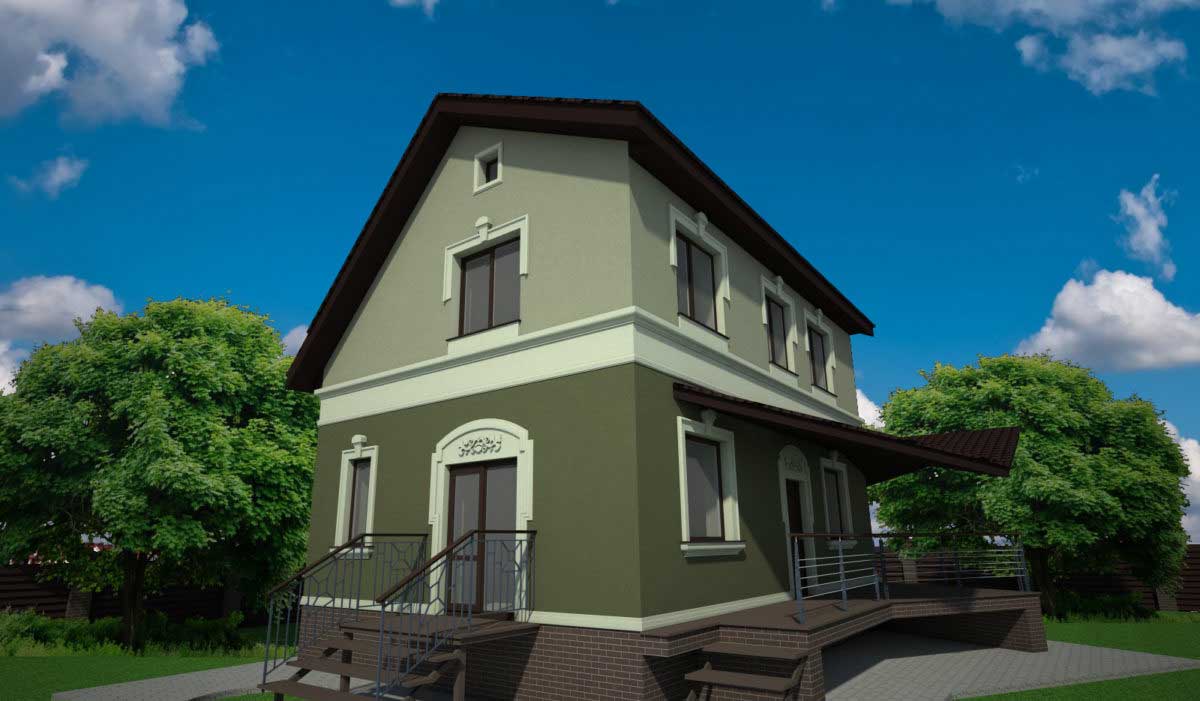 Use Earthy Colors to Freshen Up Your Home with Rich Shades of Green
Green has become one of the most popular shades to use in home decorating. Not only is green naturally uplifting, but it also complements its warm color counterparts well. Using earthy tones of green can give your home a refreshing update compared to traditional neutral colors. There are many ways to utilize this color for the ultimate green makeover. From adding a dark green front door with brown tones to selecting warm browns for your roofing and accenting it with soft moss greens, you can transform your home into a thing of beauty!
Balance Color Harmony While Attaining Character with Natural Looks
When it comes to finding a balance between colors, look no further than natural greys and greens complimented by brown roofs. Not only do these colors naturally complement each other, but they also convey a sense of harmony. By pairing the right colors together, homeowners can create a space that is both aesthetically pleasing and inviting. Warm tan complements greens and browns to create balance within any outdoor living space while creating an inviting atmosphere perfect for hanging out with friends and family. With this color palette, you can achieve character without sacrificing natural looks – allowing you to enjoy your outdoor living experience!
The Benefits of Installing a Brown Roof With These Color Palettes
The advantage of having a unique color palette for your shingle roof is that you can give your home a distinct look from others. Brown roofs can be combined with various colors, from pastels to bold hues, and the result is always eye-catching and stylish.
Installing a brown roof can make all the difference when it comes to adding visual appeal to the exterior of your home. Not only will it stand out amongst other rooftops, but careful consideration should also be given when choosing paint colors that work in harmony with its brown shade. When approached strategically, you have an opportunity to create a beautiful color palette for your home's exterior by choosing complementary colors that will enhance the colors already chosen for your roof.