Daring and stylish, black modern kitchen cabinets are an excellent choice for those looking to make a statement in their home. The bold color exudes sophistication and elegance while offering a contemporary feel to your cooking space. In this article, we will explore six daring black modern cabinet ideas that will transform your kitchen into a sleek and stylish haven for culinary creativity. From matte finishes to glossy surfaces, these designs are sure to inspire and impress.
Sleek Matte Black Modern Kitchen Cabinets with Gold Accents and Minimalistic Design
The sleek matte black modern kitchen cabinets in this design provide a bold and sophisticated foundation for the kitchen. The matte finish helps to hide fingerprints and smudges, ensuring that your kitchen looks clean and pristine at all times. With their clean lines and minimalistic design, these cabinets create an atmosphere of elegance and luxury that is enhanced by the gold accents. The gold hardware adds a touch of warmth and glamour to the space, providing the perfect contrast to the dark cabinets.
To complement the black and gold color scheme, consider incorporating a white marble or quartz countertop, which will further elevate the overall look of your kitchen. Opt for a minimalist and uncluttered design by choosing simple and functional accessories, such as a modern gold faucet and a sleek, integrated sink.
Glossy Black Modern Kitchen Cabinets Featuring a Spacious Island and Pendant Lighting
Glossy black modern kitchen cabinets are an excellent choice for those who want to create a dramatic and contemporary look in their cooking space. The glossy finish reflects light, which helps to make the room feel larger and more spacious. To accentuate this effect, incorporate pendant lighting above the island and additional recessed lighting around the kitchen.
The spacious island is an essential feature of this design, providing ample room for meal preparation and socializing. Choose a light-colored countertop, such as white marble or light gray quartz, to balance the boldness of the black cabinets. Adding barstools or chairs around the island creates a comfortable and inviting seating area for family and friends.
Contemporary Black Modern Kitchen Cabinets with Open Shelving and Wood Accents
This contemporary black modern kitchen design features a combination of closed and open cabinetry, offering both functional storage and visual interest. The open shelves allow you to display your favorite dishes, glassware, or decorative items while keeping them easily accessible.
Incorporate wood accents, such as wooden countertops or floating shelves, to create a warm and natural contrast to the black cabinets. The wood elements will also bring a sense of coziness and comfort to your kitchen, making it a welcoming space for cooking and gathering.
Two-tone Kitchen with Black Modern Upper Cabinets and White Lower Cabinets for a Balanced Look
For a more balanced and visually interesting design, consider a two-tone kitchen with black modern upper cabinets and white lower cabinets. The contrast between the dark upper cabinets and the lighter lower cabinets creates a dynamic and eye-catching look, while still maintaining a sleek and modern aesthetic.
To complete this design, choose a light-colored countertop and backsplash, such as white marble or light gray subway tiles, to harmonize the two-tone cabinetry. Additionally, consider incorporating stainless steel appliances and chrome hardware for a touch of shine and sophistication.
Industrial-style Kitchen with Black Modern Cabinets, Exposed Brick, and Metal Accents
Embrace the industrial style with black modern cabinets, exposed brick walls, and metal accents in your kitchen. The black cabinets provide a sleek and contemporary foundation, while the exposed brick adds texture and character to the space.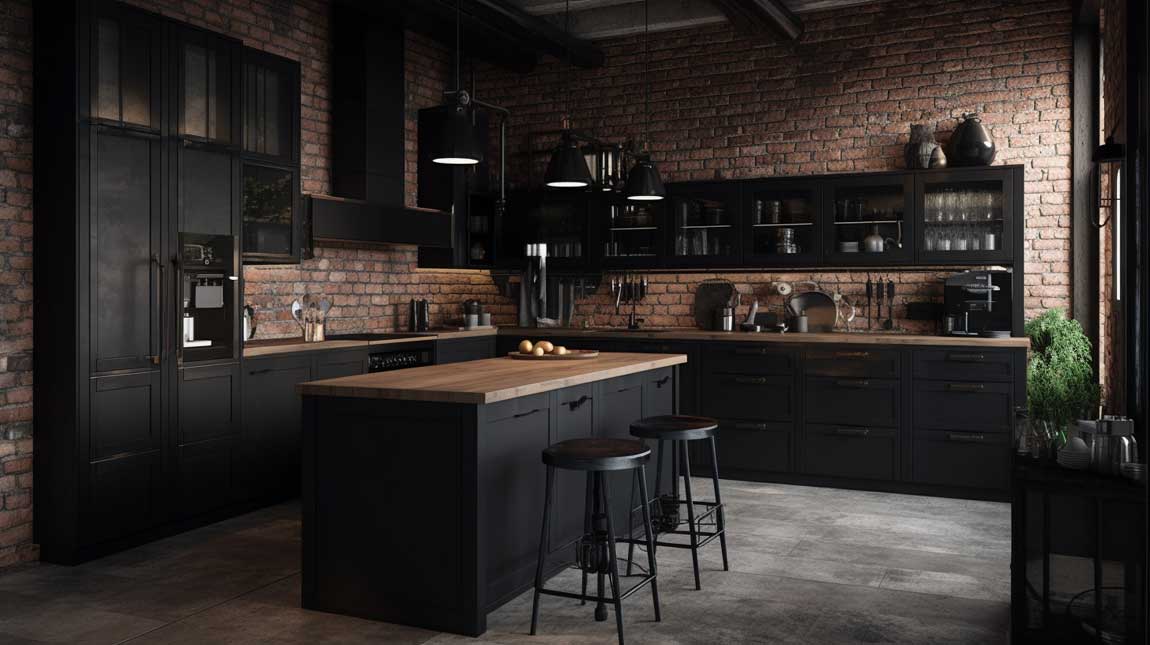 Incorporate metal accents in the form of stainless steel appliances, chrome hardware, and metal light fixtures to enhance the industrial vibe. A large, rustic wooden island or dining table can serve as the centerpiece of the kitchen, adding warmth and a sense of history to the space.
Luxurious Black Modern Kitchen Cabinets with Glass-front Doors and a Striking Marble Backsplash
For a truly luxurious and high-end kitchen design, choose black modern kitchen cabinets with glass-front doors to showcase your finest dishware and glassware. The glass doors add an element of sophistication and elegance, making your kitchen feel like a true showpiece.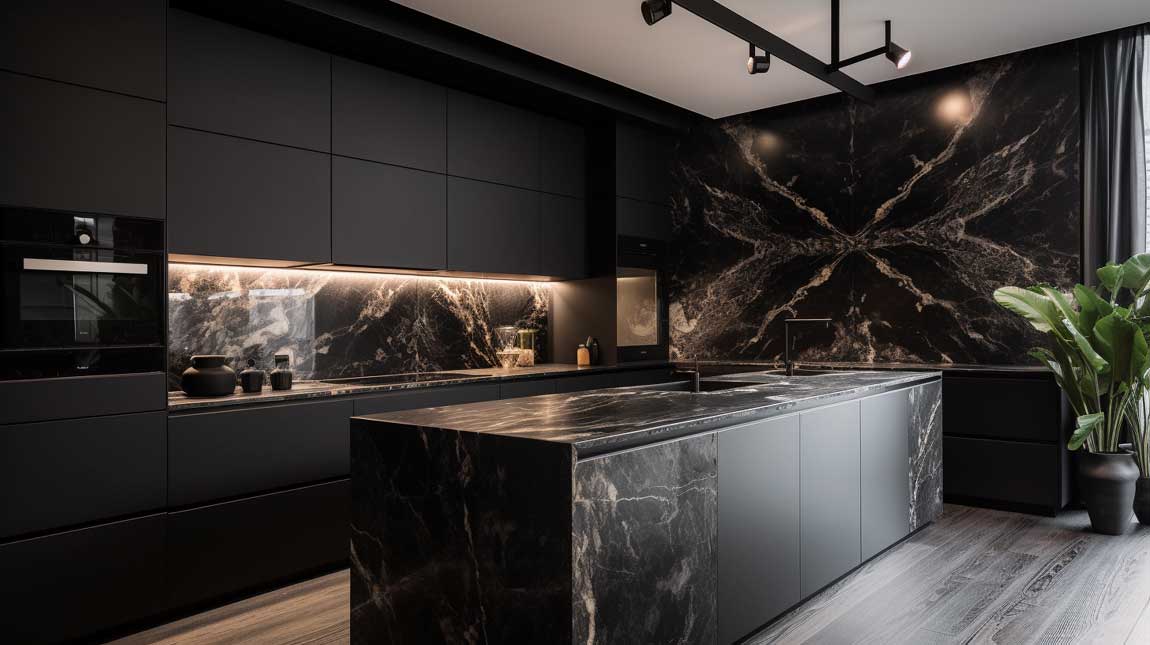 Pair these cabinets with a striking marble backsplash, which will not only provide a stunning visual contrast but also enhance the overall luxurious feel of the space. Opt for a marble with bold veining that complements the black cabinets, such as Carrara or Calacatta marble. This stunning backsplash will become a focal point in your kitchen, drawing attention and admiration from all who enter.
To complete the luxurious design, consider incorporating high-end appliances and fixtures, such as a professional-grade range and a statement-making range hood. Choose hardware in polished chrome or brushed gold finish to add a touch of glamour and refinement to the cabinetry.
By incorporating these design elements into your kitchen, you can create a stunning, contemporary, and luxurious space that is perfect for cooking, entertaining, and showcasing your personal style. Whether you opt for the sleek minimalism of matte black cabinets with gold accents, the dramatic contrast of a two-tone kitchen, or the warmth and character of an industrial-style space, your black modern kitchen cabinets will make a bold and unforgettable statement in your home.