In the dynamic world of architecture, contemporary sloped roof houses stand as a testament to creativity, functionality, and modern aesthetic appeal. They're an embodiment of human ingenuity, balancing the raw beauty of form with the pragmatism of function. This guide aims to inspire and empower you to master the design of contemporary sloped roof houses, crafting dwellings that are not just places to live, but expressions of artistic prowess and innovation.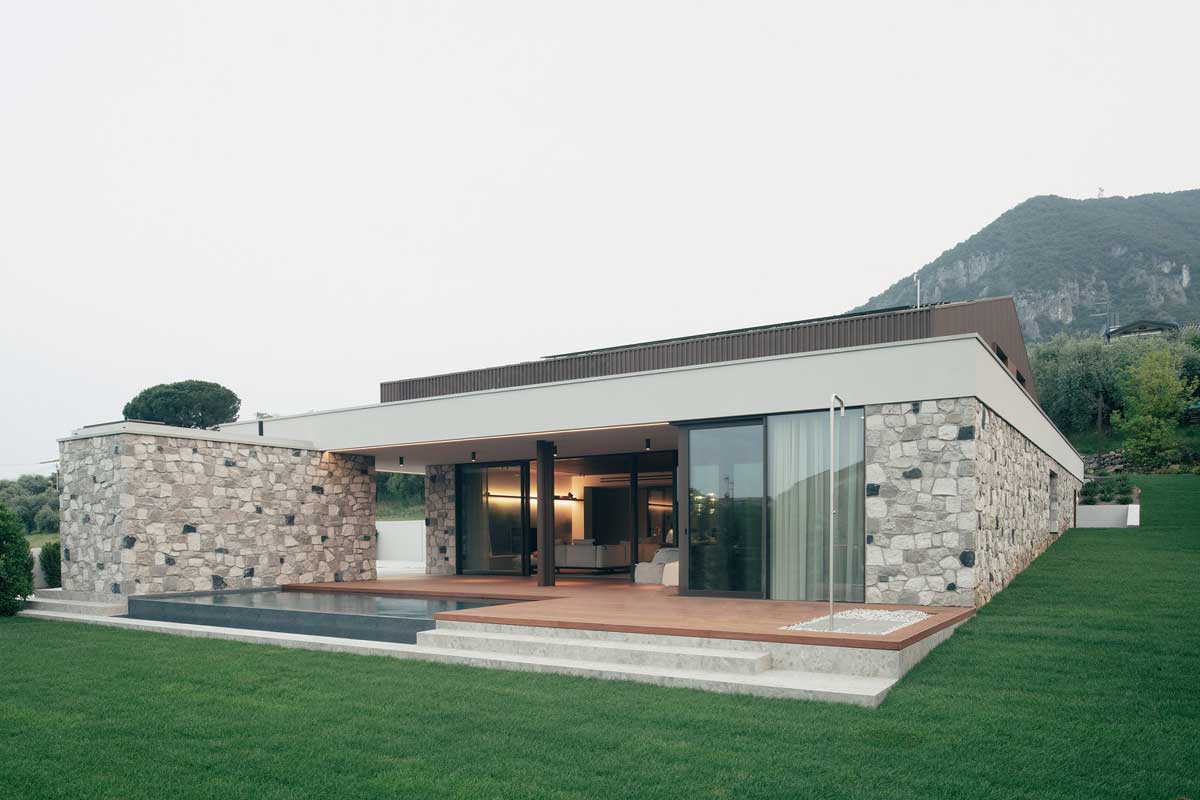 Understanding the Aesthetics of Contemporary Sloped Roof Houses
The aesthetic appeal of contemporary sloped roof houses is a fusion of bold architectural lines, dynamic angles, and thoughtful design elements. It's a style that breaks free from conventional norms, making a strong and unique design statement.
Sloped roofs add a dynamic visual element to a house. They offer a distinctive profile, creating interesting angles and shadows. This element of surprise is a core tenet of contemporary design, and sloped roofs serve as an embodiment of that.
Functionality should complement aesthetics. Sloped roofs are not just an aesthetic choice; they're a functional one too. They offer efficient drainage, reduce the risk of water damage, and can be designed to offer more living space, such as loft conversions.
Integration with the surroundings is key. In contemporary designs, the house should seamlessly blend with its environment. This can be achieved through thoughtful material choices and color palettes that respect and enhance the local surroundings.
Exploring the Functionality of Contemporary Sloped Roof Houses
While aesthetics are important, functionality is equally crucial in the design of contemporary sloped roof houses. A well-designed house should meet the occupants' needs while also being energy-efficient and sustainable.
Consider the interior layout. The shape and pitch of a sloped roof can significantly influence the internal space. It can allow for higher ceilings, loft spaces, or interesting architectural features like exposed beams, adding character to your home.
Think about energy efficiency. A sloped roof can be designed to maximize natural light, reducing the need for artificial lighting. It can also support renewable energy solutions like solar panels, making your house more sustainable.
Incorporate storage solutions. The space under a sloped roof can be creatively used for storage. Built-in cupboards or shelves can utilize spaces that might otherwise be wasted, enhancing the house's functionality.
Lastly, consider the house's orientation and local climate. These factors will influence the roof's slope and material choice, ensuring the house is comfortable and energy-efficient year-round.
Harnessing Innovation in Contemporary Sloped Roof Houses
Contemporary design is characterized by innovation. In the context of sloped roof houses, this could mean using unconventional materials, embracing new technologies, or exploring unique design solutions.
Experiment with materials. Traditional roofing materials like tiles or slate can be juxtaposed with modern materials like metal or glass, creating an interesting visual contrast and enhancing the contemporary feel.
Embrace technology. From smart home systems to energy-efficient appliances, technology can significantly enhance the functionality and comfort of a contemporary house.
Consider innovative design solutions. This could mean a roof that doubles as a garden or a terrace, large skylights that flood the interiors with natural light, or even solar tiles that generate electricity while protecting your house from the elements.
Remember, innovation should enhance living, not complicate it. So, ensure that every new element or technology you incorporate adds value to your house and improves the quality of living.
Unleashing Creativity in Contemporary Sloped Roof Houses
Creative expression is the heart of contemporary design, and it's in contemporary sloped roof houses that this creativity truly shines. From the roof's shape to its finishing details, every element offers an opportunity to make a unique design statement.
Experiment with the roof's form. Slopes don't have to be uniform; consider varying the pitch or incorporating multiple slopes for a dynamic visual appeal. Unconventional forms not only add to the aesthetic value but also provide opportunities for unique interior spaces.
Don't shy away from bold color choices. Whether it's a stark white to contrast with the natural surroundings or a vibrant hue to make a statement, color can dramatically enhance the appeal of your sloped roof house.
Creative lighting is key. Thoughtful outdoor lighting can highlight the unique rooflines, while strategically placed indoor lights can enhance the architectural details, like exposed beams or high ceilings.
Finally, consider the finishing touches. This could be a unique gutter system, artistic downspouts, or even the design of the fascia and soffit. Every detail matters in creating a unique and inspiring contemporary sloped roof house.
Reflecting Lifestyle in Contemporary Sloped Roof Houses
Contemporary sloped roof houses should be more than just aesthetically pleasing; they should reflect the lifestyle and values of those who dwell within them. A well-designed house is a canvas for life, and its design should facilitate and enrich everyday living.
Start by understanding the inhabitants' needs. Are they a large family needing multiple bedrooms, or a couple looking for a cozy retreat? These needs will significantly influence the design of your house, from the number and type of rooms to the overall layout.
Consider lifestyle elements. If the occupants love gardening, perhaps the sloped roof could accommodate a rooftop garden. Or, if they value sustainability, maybe the roof could support solar panels or a rainwater harvesting system.
Think about how the house will evolve with time. Flexibility is a cornerstone of contemporary design. Design spaces that can be adapted or repurposed as the inhabitants' needs change over time. For example, a loft space under a sloped roof could be an office today and a bedroom tomorrow.
Lastly, keep in mind that a house is a backdrop for memories. Design spaces that encourage interaction, foster connections, and create an atmosphere conducive to making lasting memories.
Conclusion
In essence, mastering the design of contemporary sloped roof houses is about much more than creating a stylish and functional dwelling. It's about crafting a space that reflects the lifestyle and values of its inhabitants, respects and enhances the environment, and inspires through its creativity and innovation.
Remember, every design decision you make is a stroke on the canvas of life. Let this guide inspire you to design a house that is not just a place to live, but a work of art that resonates with beauty, functionality, and contemporary charm. Your contemporary sloped roof house awaits your unique touch!