Spherical houses are not a modern innovation in architecture. Since ancient times, people on all continents built dome-shaped dwellings from different materials: wigwams and ikukwans, igloos and Wikipedia, wattle and daub, borrowing the shape of the structure from our smaller brothers.
The unusual design of the modern dome house, complemented by the original design of the site
The domed building stands out from the general classical buildings, giving the magnificent natural landscape notes of unearthly beauty and charm. Two interconnected spheres with shiny metal disks as a top decoration of the dome create a fantastic atmosphere, and solid glass doors open a unique view of the lake's surface and pristine nature.
The areas in front of the house are made in strict gray tones, giving the exterior facade a certain techno shade. When arranging the territory around the building, landscape features of different countries were used: a Chinese garden with a dragon path, a classic Japanese stone garden, and a Mediterranean line, where an infinity pool is located.
A boat, a snow-white ship with a terrace, and romantic views of the pool and lake are attached to the spherical house. Inside the ship, there is a relaxation area for receiving guests in an extraordinary modern setting.
Thematic notes allow each inhabitant of the house to find a place of rest by their mood and desire.
Dome style homes – use of the advantages of spherical housing for interior design
The guests of this house are especially impressed that there is not a single straight wall in the building: all the walls are curved and have a slope. The maximum ceiling height is 5 m. The house has several areas with bright acoustics and a special atmosphere.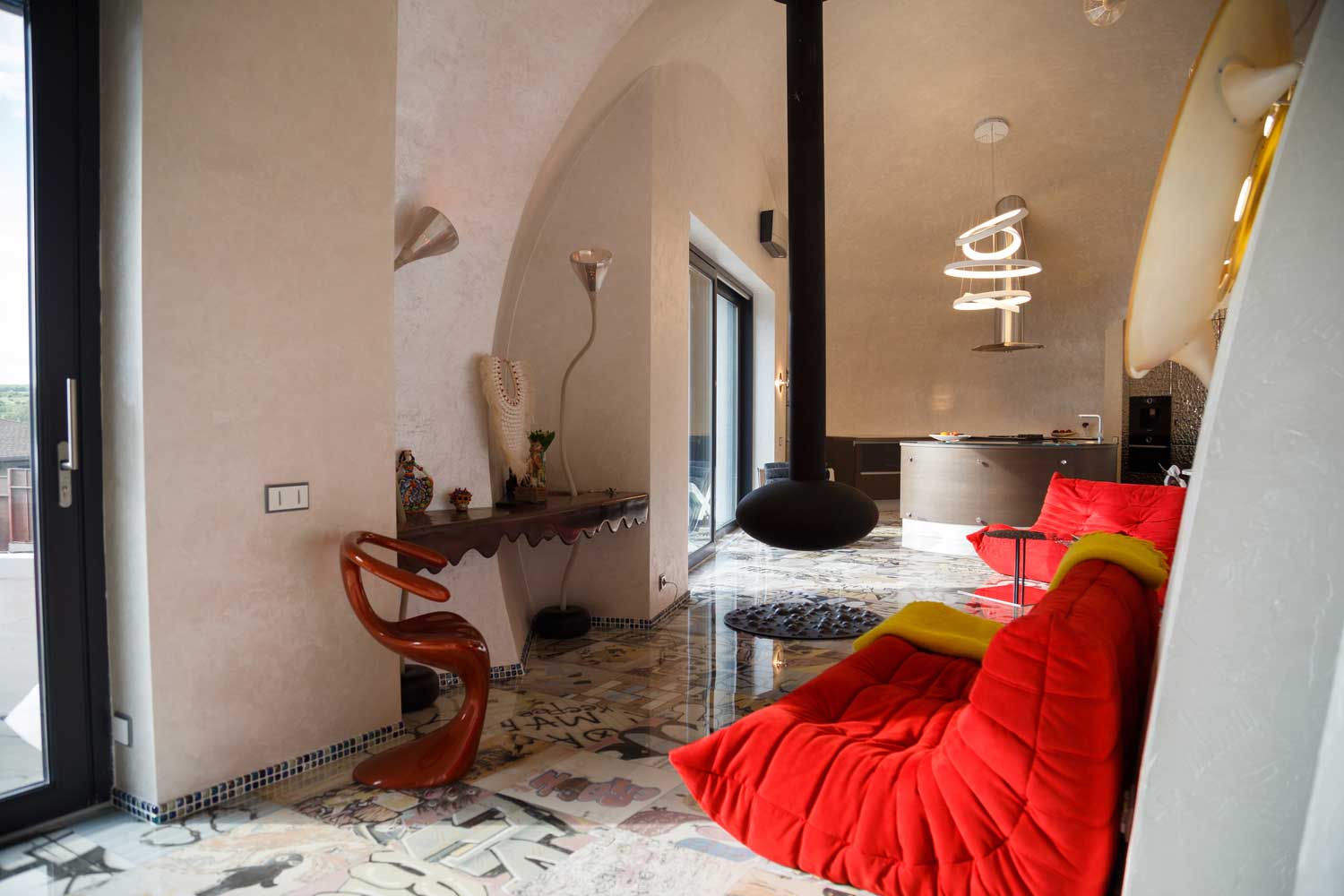 Due to its shape and special technologies, the house keeps warm in the winter and cool in the summer, and has a lot of light, and a fantastic sense of space. This impression is reinforced by unconventional interior solutions.
Original furniture, modern decoration materials, and unusual interior details are consistent with the non-standard building facade. Vivid color schemes enliven the space, contrasting with the noble and calm finishing materials of the walls, floor, and ceiling.
Dome construction houses have a number of advantages over their angular counterparts: cost-effectiveness in construction, stability, excellent thermal insulation, excellent acoustics, a shorter construction period, unusualness and room for the embodiment of the most daring design decisions. To emphasize the non-triviality of your thinking, creativity and individuality, a spherical house with its fantastic attractiveness and peculiar disposition will help.