Modern construction technologies make it possible to make the gazebo an almost capital structure. It will be adapted for rest and work at any time and in any weather. This design of a gazebo made of bricks with glazing was presented by the architectural bureau HAMISH & LYONS.
The object breaks the stereotype about using the summer structure as a shed – now it is a functional space that acts as a summer alternative to the living room in the house and replaces the terrace.
Reliable secure configuration
Visually, the gazebo represents a spacious, open space on stilts above the water. Due to the metal base, it is made in the form of a rigid, durable structure. Panoramic glazing is made around the perimeter, providing a view of the adjacent landscape – as if you are directly in nature, surrounded by a pond and forest.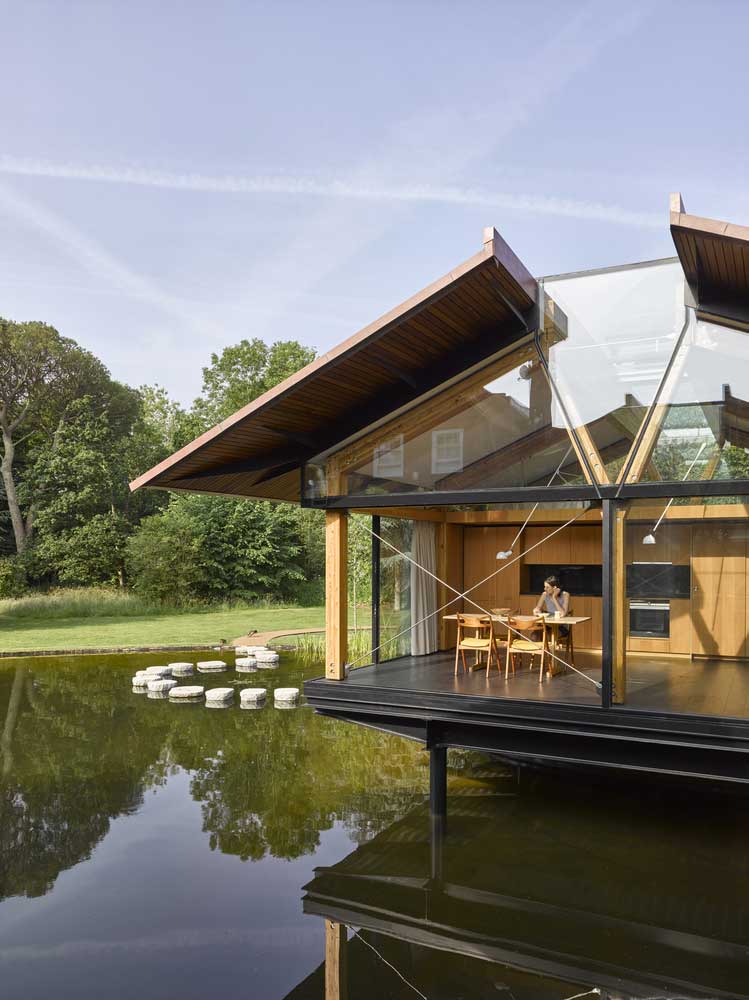 The design of the gazebo with panoramic glazing has a gable roof with massive cornices that protect the space from the scorching daytime sun. In the evening, glass structures can be closed, excluding the access of insects inside.
The main load-bearing, supporting structures, railings, and finishing is made of natural wood. This adds naturalness, warmth, and comfort to the space. The brick is used here mainly for aesthetics and to introduce the gazebo to a residential building. In theory, she should not have gotten out of the big picture.
Integration with home
In style and configuration, the gazebo corresponds to the main residential building and visually complements it, without standing out against its background, as a separate building. For this, the design of the gazebo was made of bricks with glazing, wood, and metal. In shape, it also repeats the features of a private house and is connected to it by a passage – you can go into the gazebo directly from the living room, without crossing the courtyard.
The structure is a continuation of the house above the water – it seems to float above the reservoir. Taking this opportunity, access to water is made from here. You can swim right next to the building and even under it.
Due to this configuration and design features, the design of a glazed brick gazebo implies an ergonomic, open, but protected space for work, study, and rest. Here you can equip an area for a family dinner, organize a playground, entertainment area, a place for sports, yoga – all this in the immediate vicinity of the water.