The aesthetic appeal of a kitchen goes far beyond its surface elements. Indeed, the latest modern classy kitchen ceiling designs are now a significant factor, shaping the overall look and feel of this essential space. A well-designed ceiling can add depth, personality, and a sense of luxury to your kitchen. From statement light fixtures to intricate moldings and beyond, modern kitchen ceiling designs are transforming homes into stylish and inviting spaces. Join us as we explore this emerging trend.
Innovative Coffered Ceiling for a Classy Modern Kitchen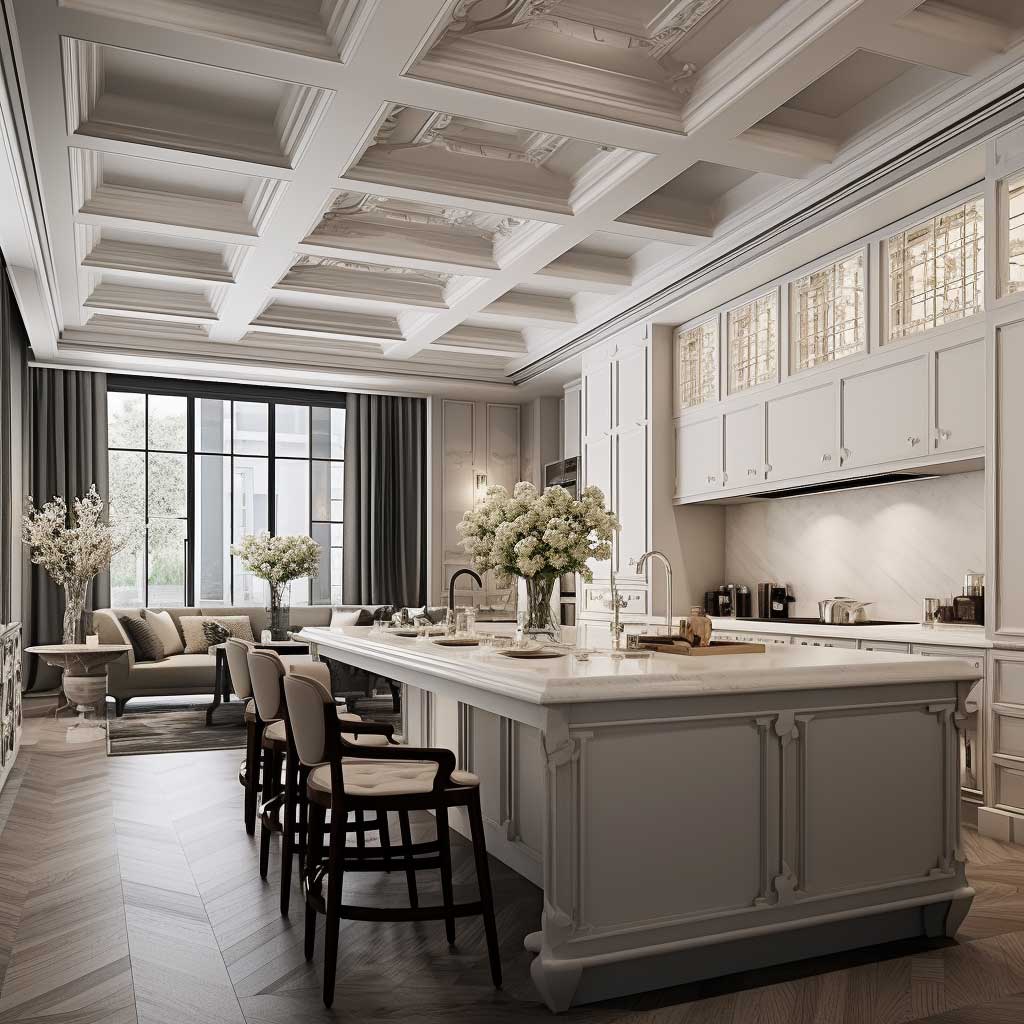 Coffered ceilings are a timeless addition to any room, but when implemented in a kitchen, they add a whole new dimension. The image presents a stunning example of a coffered ceiling, an element of the latest modern classy kitchen ceiling design that adds a touch of sophistication and luxury.
The crisscrossing pattern of beams creates a grid of squares or rectangles, adding a sense of depth to the kitchen space. While traditionally associated with older homes, coffered ceilings have found their place in modern kitchen design due to their flexibility in style and materials.
One of the key advantages of coffered ceilings is their ability to improve acoustics. The design can absorb and dampen sound, enhancing the overall atmosphere in your kitchen. They are also perfect for hiding structural elements and integrating lighting fixtures seamlessly.
Choosing the right colors for your coffered ceiling can further enhance its visual impact. White is a classic choice for creating a bright, airy feel. Alternatively, darker tones can add drama and a sense of intimacy to the kitchen.
Consider the height of your kitchen before opting for a coffered ceiling. While they can add depth to a room, they also lower the ceiling slightly, which might not be suitable for kitchens with low ceilings.
Elegant Tray Ceiling for a Modern Classy Kitchen
Tray ceilings, named for their resemblance to an inverted tray, are a popular feature in the latest modern classy kitchen ceiling design. This style involves creating a rectangular cut-out in the ceiling, which is then often illuminated for an elevated look.
The photo captures the unique elegance of a tray ceiling in a modern kitchen. The outer perimeter of the ceiling is at the original height, while the central portion is raised. This design creates a focal point that draws the eye upward, enhancing the feeling of space.
The additional height of a tray ceiling provides a perfect opportunity to add decorative elements. Recessed or ambient lighting, as seen in the photo, highlights the architectural detail of the ceiling and adds warmth to the kitchen.
Tray ceilings can be customized to suit any kitchen style, from modern and minimalist to traditional. The choice of color and finishing materials can significantly impact the overall look.
Remember to consider the proportions of your kitchen when opting for a tray ceiling. This style is best suited for wider or open-plan kitchens, where the design can truly stand out.
Modern Kitchen with Classy Vaulted Ceiling Design
Vaulted ceilings, characterized by their arched or dome-like shape, are a stunning feature in the latest modern classy kitchen ceiling designs. These ceilings provide a sense of grandeur, making even the smallest kitchen feel spacious and open.
In the photo, the vaulted ceiling dramatically lifts the visual height of the kitchen. The design lends an air of sophistication, transforming the kitchen into a statement space.
Vaulted ceilings are also practical. The extra height allows for the addition of tall windows or skylights, bringing in abundant natural light. This feature, coupled with the right lighting fixtures, can create a bright and airy kitchen environment.
The choice of materials and colors can significantly impact the look of a vaulted ceiling. For a modern look, opt for clean, crisp lines and a neutral color palette. To add warmth and texture, consider using natural materials like wood.
Implementing a vaulted ceiling design requires a fair amount of planning and professional advice, as it involves structural changes. However, the end result can be incredibly rewarding, offering a kitchen space that's truly unique and inviting.
Conclusion
The latest modern classy kitchen ceiling designs are about so much more than aesthetics. From coffered and tray to vaulted ceilings, these design elements are adding depth, enhancing acoustics, improving lighting, and transforming kitchens into stylish, luxurious spaces. With careful planning and the right design choices, you can create a kitchen that is not only functional but also a testament to your unique style and taste.