Austerity and conciseness in the interior is not only a way to rationally spend the budget when creating it, but also a loud trend. He did not pass by the design of the stairs. The more elementary these designs are, the more fashionable they look in a new generation environment. But it is important that such simplicity is harmonious, so designers offer a simple staircase design with an element of creativity.
As a result, we got soaring steps, laconic structures without fences and railings, durable and simplified metal and concrete products to elementary level.
Simple concrete stairs design
For a monolithic or brick house, options for reinforced concrete stairs remain trendy. The technology allows you to create steps of any configuration, but designs with an elementary design are in special demand.
Due to the versatility and strength of reinforced concrete, it is possible to create laconic, strict forms from it. They do not require additional structures for reinforcement, reinforcement, as they themselves have a good bearing capacity.
Simple stairs design in the form of a bar, boards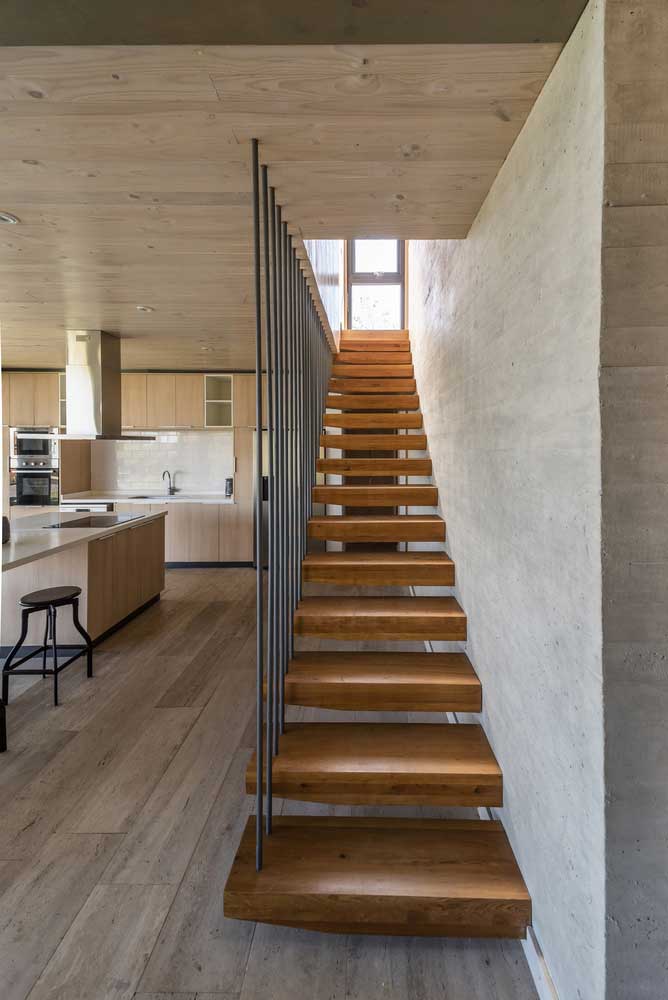 In the trend of modern interior design, the intact and pristine materials and structures taken directly from nature remain. For this reason, the simple design of wooden stairs has become fashionable without additional processing of forms.
The steps are wooden blocks, boards, logs. This concept looks environmentally friendly and interesting. Designers add an element of naturalness directly to the ultra-trendy interior, thereby creating an atmosphere of reliability, durability and comfort in it.
Lightweight, minimalistic simple stairs design
This is the most creative option, since here the designers create stairs of the most unusual configuration. They can be suspended on metal structures, which at the same time also act as a fence.
Steps hanging in the air are considered a real trend. They are made without risers and are attached to the wall with only one edge. The effect of hovering steps in the air is created. Further, they can be supplemented with fences, railings with practically no restrictions in the context of design.
The simple design of the stairs has become a trend in interior design in the styles of minimalism, loft, fusion. If earlier they tried to make such a structure the central element of the furnishings, emphasize its complexity and richness of the decor, then in ultra-fashionable directions everything should look concise, but at the same time unusual.