Tree houses are special constructions that bring together the best of both worlds – nature and architecture. They provide a unique retreat for us to explore and appreciate both the beauty of nature and the creativity of human invention. Tree houses also offer an ideal opportunity for homeowners to customize their own space. From convenient tree-level seating areas to lush swings, tree houses can offer imaginative designs tailored to fit any family's needs, making them an excellent choice when looking to create a creative space in your backyard. With so many ideas out there, there are endless ways to design a tree house that creatively captures the imagination while remaining balanced with the natural surroundings. Through this article, we will uncover why tree house designs can be so creative and discuss some tips on how you can build your unique treehouse structure!
Panoramic small treehouse – a childish idea in an adult manner
With modern architectural techniques and a trend towards living in nature, a small tree house has become more than just a child's dream, but a creative way to organize an outdoor recreation area for the whole family.
It is also suitable for a couple – here a secluded, romantic setting is integrated with wildlife. The corresponding solution was proposed by the architect Jan Turpekl. The building is located in a private garden near Prague.
Small tree house / How to make the idea of a small tree house in an adult way
The architect has combined the idea of a children's house with contemporary architectural techniques, turning it into an ergonomic view space. Instead of a closed wooden room with small windows, he presented an open oval structure, in which continuous panoramic glazing was made instead of walls.
This technique provides an unobstructed view of the private garden from the treehouse. With an area of only 39 square meters, it looks light and spacious. The border between space and the environment is practically erased. The effect of being in the middle of a picturesque garden is created.
And to achieve privacy, the house has thick curtains along the entire height of the panoramic windows. Using them, the room can be completely localized in a visual context. Closing the curtains, the open-view living room turns into a cozy romantic bedroom with a spacious bed and a fireplace.
Little tikes treehouse / Small treehouse creativity with simple solutions
The structure consists of two independent wooden planes – the base and the roof. They are united by a solid glass form. It is designed in such a way that tree trunks are made of glass outside the room. The effect of lightness is created, and it seems that the building is hanging in the air.
To climb into the house, instead of traditional steps, a stepladder was made, leaning against a wooden frame. In general, it was built like a hut, but at the same time, modern comfort, beauty, and ergonomics of the space have been achieved here.
The main element of the interior of the small tree house is the fireplace. It is located centrally with a circular hood extending from the ceiling. At the same time, everything inside is arranged as simply as possible. There is a bed and some creative armchairs so that there is an opportunity to get together by the fireplace or at the table.
Luxury tree house in two sections / Baumraum
The unique shape and layout of this luxurious tree house are impressive! The structure of metal and wood is mounted on piles. The tree house consists of five elements: two sections on different levels connecting terraces, stairs, and a connecting roof. The lower section houses the coffee shop, storage room, toilet, and technical room. The top section is for meetings and other events that fit this exquisite space among the trees. Benches covered with soft cushions create a feeling of comfort and ease, encouraging you to stay longer.
Design Elements to Consider for a Unique Tree House
Designing a unique tree house is more than just finding a great tree, adding a few boards, and chucking in some nails. It involves extensive planning and research, as well as an incredible eye for design. Good tree house design should allow for safety, creativity, and ultimately – fun.
When designing an indoor tree house for children's playhouses or creating custom kids' playhouse plans you must consider materials, height elements, structure security, access points, creative options such as slides or tunnels, and most importantly – maximum fun! You also have to ensure that the structure is strong enough to withstand unpredictable weather conditions such as strong winds or heavy snowfall. With the right mix of sturdy materials and creative designs, your unique tree house can be made into a haven for children's playtime!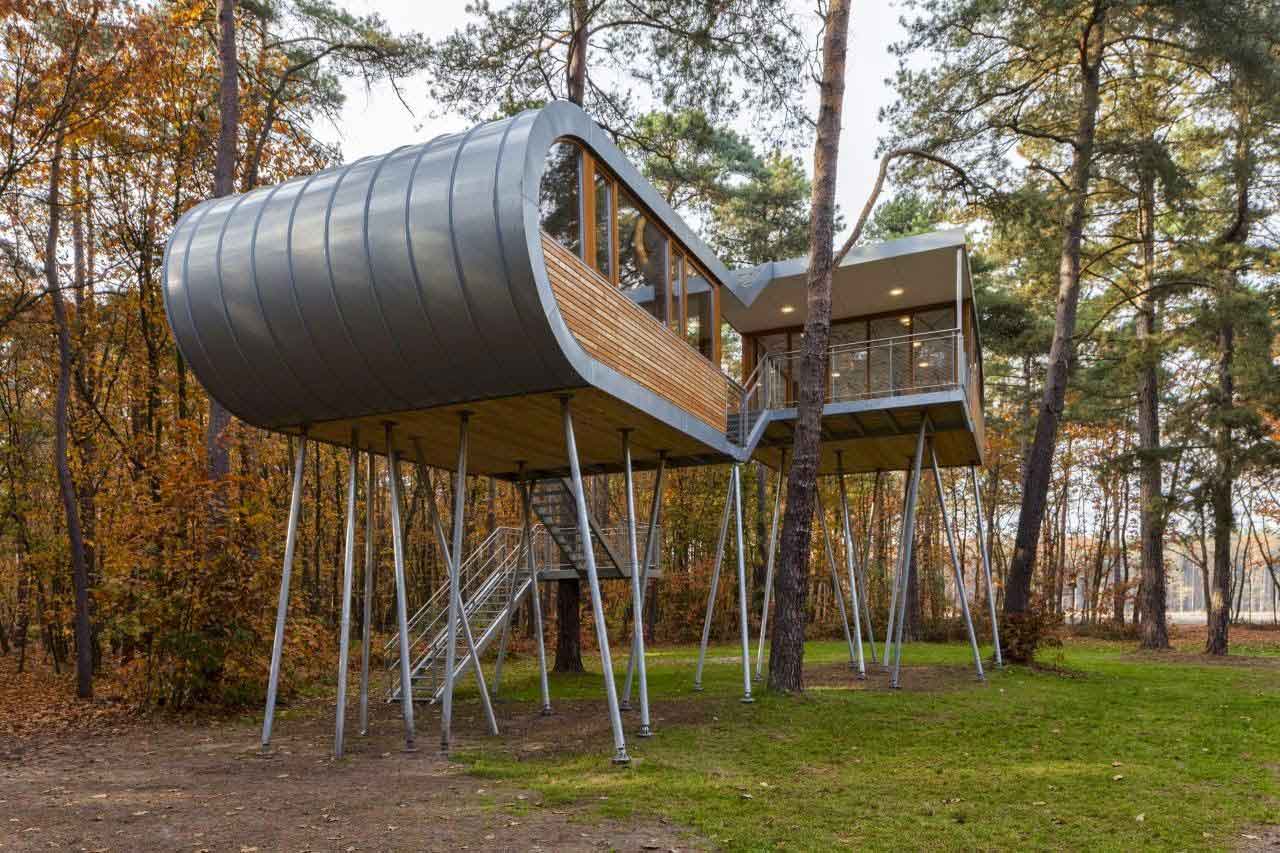 Awesome Tree Houses
With a modern approach to architecture, tree houses have become far from just a childhood dream, but a reality for adults who want to plunge into an unusual romantic atmosphere. The project of the architectural bureau Utreras Arquitectos is a small temporary shelter for recreation in the forest.
Unique Possibilities with Custom Tree Houses
Who doesn't love the idea of having a secret tree house in their backyard? With custom tree houses, it's now possible for you to bring that childhood dream of having your own special and unique hideaway to life! Custom tree houses can offer some amazing opportunities for fun outdoor play structures for kids that have exciting designs, making them one of the best additions to any backyard. Whether you're looking to design something unique or want to add a twist to an existing concept, there are lots of possibilities with custom tree houses. Get ready to explore the world of custom-built playhouse ideas and see what possibilities you can create in your backyard!
The peculiarity of the object is that it is a compact group of houses with a total area of 79 sq.m. They are small duplex rooms made of wood with a fabulous setting – latticed and round windows, neat wooden furniture, and a completely ecological environment.
Compact tree houses as part of nature
One gets the impression that these are fabulous objects created by the hands of forest dwellers. They seem to have grown in the forest and formed a shelter for those who come here to admire the beauty and enjoy living surrounded by birdsong, the rustle of leaves, and the murmur of rivers.
You can watch what is happening outside the houses through small round windows in the bedroom area or wide openings in the social space. This setting is particularly mysterious and romantic. You feel yourself in a secluded, safe place, hidden from the hustle and bustle, and anxiety.
The houses resemble bird nests, connected by passages. The bridges form a single object. Resting here with company or family, you can always conveniently walk from one house to another.
Unique style of tree houses with a stunning atmosphere
There is not even a hint of modern style here. Everything is arranged as an ancient or even fabulous refuge from the city noise. The facades are finished with almost untreated cypress wood.
All walls, partitions, and structures in the house are also made of natural wood with minimal processing. But the surfaces are safe for use, they have pleasant tactile qualities and smoothness.
Installation on piles made it possible to build houses without interfering with hilly terrain. For traditional cottages, labor-intensive earthworks would have to be carried out here. And these cozy, stunning in appearance tree houses did not require leveling the site. This also affected the color of the housing – just beyond the threshold you have an untouched forest.
Jungle tree houses / Small luxury tree houses in the jungle
The overall shape of these tree houses demonstrates the integration of architecture and the environment, as well as the relationship between space and nature. The internal floor is made of bamboo that blends into the wooden deck. This moment in the building emphasizes a space without walls that maintain inner and outer unity. The interior design reflects the beauty and sacredness of bamboo with a round nest-shaped bed. A unique and organic space for those looking to meditate and relax amid the wonderful cultural context and landscape of Bali.
Project of a wooden tree house with all the amenities from Madeiguincho
The project is built on the side of a mountain, which gives great views through panoramic windows and a skylight above the large bed. The fireplace in the bedroom will add coziness and warmth to the wood decoration of the tree house.
Two-storey full-fledged metal tree house by Paschetta Cavallero Arquitectos
This two-story tree house has a unique interior space and a small loft. These rooms, located on the top floor, can be accessed by stairs and a translucent terrace that create the feeling of walking through the air. Simple metal structures with a gable roof, combine economy and low maintenance.
Uniquely Designed Cylindrical Tree House by Malan Vorster Architecture Interior Design
Inspired by the trees on the estate, the client requested a one-bedroom hut-style shelter resembling a tree house. The property is set in a small clearing among forest-like gardens to maximize the view from the highest part of the site. The center of each circle is the location of the column, and the circular rings that support the floor joists at the top are connected to the columns using branches. Each ring defines a semicircular auxiliary space to the main square living space at that level. The building becomes a vertically positioned "clearing in the forest" with living space on the first level, a bedroom on the second level, and a roof on the third.
The tree house as an architectural installation in a children's park
The Evans Adventure Kindergarten, located on a natural hillside, has set up a new tree house on its property. This treehouse is the first of three planned for the garden, which will provide an interactive educational experience for visiting children as part of an ambitious plan to return children to the forest. The tree house uses a rich visual and tactile environment to stimulate the mind and body to strengthen its connection with the natural world while meeting the needs of all users.
How to Get Started With Crazy Tree House Ideas?
Getting started with crazy tree house ideas is an exciting adventure for parents and kids alike. From basic tree houses to elaborate kids' playhouses, there are limitless possibilities when it comes to what you can create. With some research and planning, you can construct a wonderful play area that your children can enjoy for years. This article will explore the best tree house designs, creative playhouse design ideas, resources on how to make a basic tree house, and tips on building an elaborate kids' playhouse.
Unique & Memorable Themed Tree Houses That Kids Dream About
Have you ever imagined how fantastic it would be to have a magical, themed playhouse right in your backyard? Well, now that dream can come true!
Today, kids don't want to just have a regular old playhouse. Instead, they want something unique and memorable – a themed tree house that they can let their imaginations soar. From fort tree houses with drawbridges and sweeping rooves to pirate ships hiding in plain sight, there is something out there for the kid in everybody. Create a special hideaway for your children with fun backyard retreats specifically designed for them!
Bring fantasy to life by planning out whimsical outdoor playspace concepts. With creative ideas and some hard work, you can construct the perfect getaways so your kids can escape from reality and make all of their childhood dreams come true. Get ready to explore the possibilities of creating amazing themed tree houses that will make memories last forever!
There are many things that every child dreams of. And these are not only beautiful toys, modern tablets. Being small, the baby wants to have his own space where he will feel like a real master. Guys are always looking for staff … so why not give your child a treehouse for children. This is a unique idea that will bring a lot of pleasure, joy, and unlimited happiness.
A complete house for a little owner
The wooden shelter shown in the photo was designed by Madeiguincho architectural bureau on an area of 15 sq.m. This hill has become a real secluded place for children who can not only play fun but also hide from adults to share their ideas, and come up with an interesting game.
The original building is made of sip panels and a cedar roof. Natural materials give the house a special atmosphere of freshness, and the pleasant color of the texture favorably affects the children's psyche. The design feature is that a tree passes through the space, which fills it with wildlife.
Treehouse construction
In the design of the structure, it was important to take into account the main criteria:
Reliability;
Security;
Favorable texture;
Easy to read design.
All these parameters were successfully embodied in an amazing place where children can not only play a long distance but also spend more time in the fresh air. For the construction, a planed beam was chosen, which makes the external and internal appearance solid and light.
The layout provides for a lot of free space where you can run, jump, read, and conduct developmental classes. Another plus of such a separate place is that the child can feel independent because here the owner is only he alone.
Maximum lighting
When planning to build a playhouse for children made of wood, a very important factor was provided for – lighting. In space, natural light is used along with lighting fixtures. To do this, there is a special glass hole on the roof from where natural lighting comes in – the sun, stars, and the moon.
The side of the house is made of burned and treated linseed oil bars. This type of layout also provides natural ventilation. The window for natural light is directed to the east-west side so that children can enjoy the sunset and sunrise.
From all sides, the house is filled with warmth, and rays of the sun, which certainly gives a good mood and charges with positive emotions. This is what children need, at the stage of their development and perception of the world around them.
House Exterior
The concept of choosing a natural tree for the construction of a treehouse for children has been chosen for good reason. There is no plastic or brick. Only a natural and environmentally friendly finish that favorably affects the health of the baby. Such a performance instills a love of nature, allows you to enjoy the aroma of wood, and teaches you to appreciate the world.
For convenience and safety, a small balcony is provided on both sides. The fence will not allow the child to fall out, and the trees passing through the base perfectly contrast with the general exterior. You can climb to the house on the stairs, which are also made of wood. It has steep steps, so it will be easy for children to walk without fear of heights.
A happy childhood in his corner
There is nothing better than watching the children rejoice and give a radiant smile every day. To do this, not so much … have your little corner. In such a treehouse for children, in the photo of which we see, the child can feel the distance from the city bustle. This concept has become relevant to the project. Here a little man can see, feel, and contemplate the natural beauty.
In a small space, you can play with friends, read books with your parents, or just be alone.