Organic architecture is a type of design that is focused on creating a harmonious connection between people and the environment. Through its creative use of structures and materials, organic architecture strives to create homes that are safe, energy-efficient, and inspiring. By connecting nature with human culture, organic architecture helps us find beauty in the daily environments that define our lives. It gives us a meaningful connection with nature while providing an ever-changing environment that ensures our interaction with the spaces remains fresh and engaging. In this way, the principles of organic architecture are all about working with natural elements rather than against them by utilizing green building practices, unique home design ideas, and modern technology to create pleasing aesthetic results as well as unique functional homes for all types of families.
How Can Organically Designed Buildings Help Create an Improved Living Experience?
Creating living spaces inspired by nature and incorporating eco-friendly features are becoming more and more popular. In this article, we will talk about how we can use organically designed buildings to create an improved living experience for us. We will be looking into energy-efficient design and the ways through which we can reduce our overall carbon footprint. Through this, we will understand why it is important to live in harmony with the environment and create sustainable structures that are designed with the idea of reducing energy resources while maximizing our comforts as well as keeping a balance between modern and classical architectural aesthetics.
Working with Nature for Maximum Effect – Boosting Your Home Sustainability & Efficiency
In the wake of rising environmental concerns, building a more sustainable home establishes both our well-being and that of the environment. To promote greener living and achieve greater energy efficiency in our homes, we can look to the wonders of nature and design our homes accordingly. By using green building materials, landscape-influenced designs, and leveraging natural elements we can reduce our carbon footprint and enjoy a better quality of life. Embracing green architecture benefits not only us – but also future generations – by eliminating potential long-lasting damage to our precious planet. At the same time, with modern building materials and innovative technology available today, we can combine sustainability with contemporary styles to make sure that green homes don't compromise on their aesthetics at all!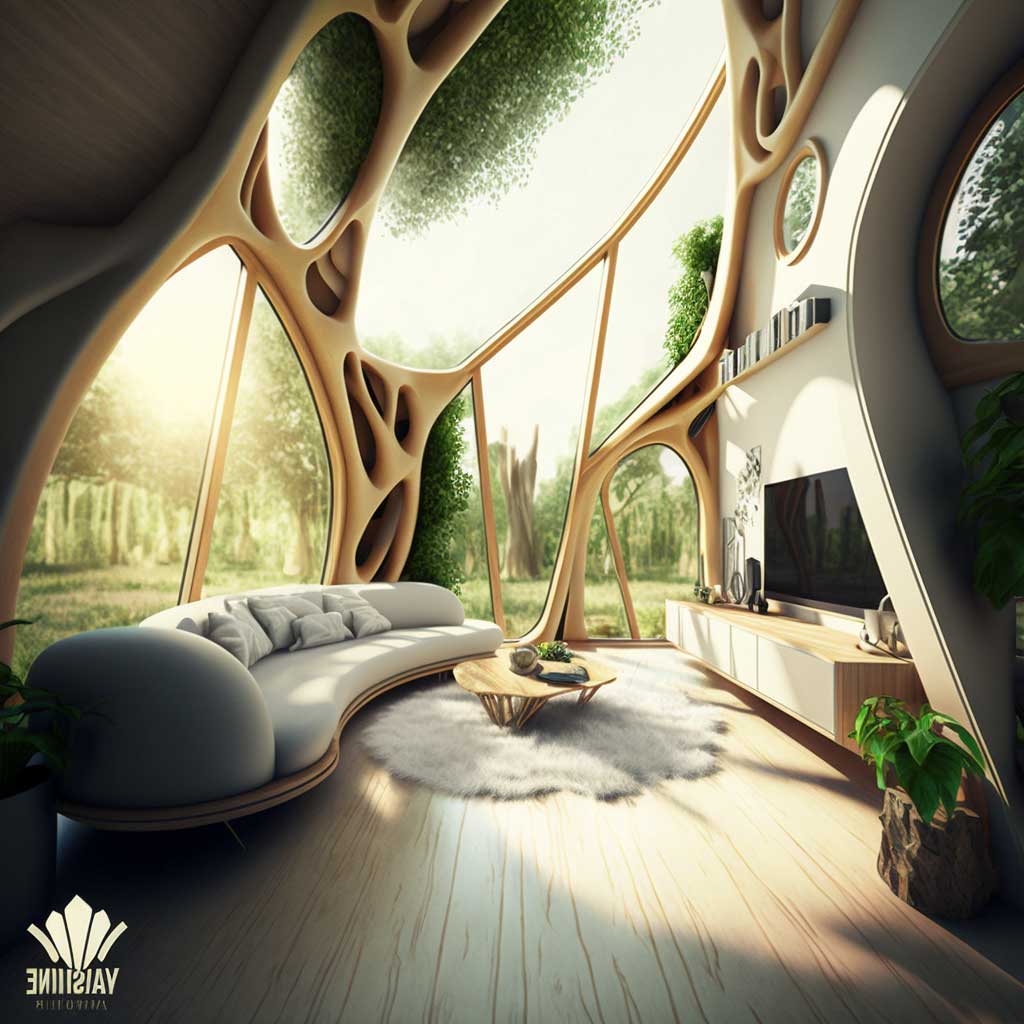 Engaging with Nature Through Uniquely Curated Materials Made From Natural Resources
Organic architecture has been gaining increasing attention in recent years, as more people recognize the importance of engaging with nature, conservation, and resource management. By utilizing locally sourced materials to create uniquely crafted elements that reflect the region's history and cultural influences, architects can bring the beauty of nature into their projects. Uniquely curated materials made from natural resources are becoming increasingly popular for both residential and commercial properties globally. This not only adds visual interest but also furthers sustainable construction goals. Through careful practical applications of natural elements, architects help spread sustainability and environmental awareness by creating environments that invite people to explore nature and become more mindful of their daily choices.
2+ Best Organic Architecture House Designs
Fans of organic architecture do not accept the practice of demonstratively distinguishing construction objects from the environment. Houses created according to the principles of harmonious coexistence of man and nature are called upon to take a break from the gray urban monotony and endless bustle.
Return to the origins of mankind, to the bosom of Mother Nature does not exclude comfortable domestic dwelling space for a comfortable stay in it. Combine the seemingly incompatible qualities: natural naturalness and comfortable conditions, and organic architecture is called upon. Organic design ideas are confidently taking over traditional building concepts.
Organic architecture is a private home that can achieve a maximum confluence of nature and the construction of forms in several creative solutions:
Architectural ideas allow us to perceive the house as a natural continuation of the natural landscape. The maximum preservation of the natural relief allows you to organically fit the structure into the pristine landscape. At the same time, elements of untouched nature serve as a unique decorative finish for exquisite building forms.
The use of natural materials in the construction of a cottage enhances the perception of the unity of man and nature. Natural materials (stone, wood) serve not only as building materials but also as additional decorative finishes, creating the illusion of the building's natural origin.
An abundance of light creates an atmosphere of unlimited freedom. Natural sunlight through numerous glazed openings abundantly gives warmth to the interior.
The use of landscaping and a natural reservoir in design blurs the boundaries between space and the outside world. The inner and outer spaces naturally flow into each other and are emotionally perceived as a whole.
ORGANIC ARCHITECTURE OF EXTERIOR HOUSING
Streamlined flowing lines of the facade of the building without an awkward angularity give the impression of something miraculous, and unusual. It seems that this cannot be the work of human hands. Unusual architectural designs evoke a feeling of weightlessness in the building and at the same time some kind of fabulous touchdown arising from a natural reservoir.
They emphasize the uniqueness of the environment in which the building was erected, the smooth lines of the balcony railing on both floors of the building, echoing similar barriers to terraces of hilly natural terrain.
ORGANIC ARCHITECTURE IN THE INTERIOR
Organic architecture country house provides the functionality of the interior, combined with minimalist and authentic design solutions.
The abundance of sunlight, the use of natural materials for decoration, and the smooth lines of decorative elements and furniture give the impression of unity of the interior of the house with the external natural environment.
Every detail of the interior organically fits into the general atmosphere and brings some peace and universal calm.
ORGANIC ARCHITECTURE IN COMBINATION WITH LANDSCAPE
The principles of organic architecture apply not only to the building itself but also when planning the site on which it is being built.
Repetition of lines smooth, natural materials, and design for maximum preservation of natural vegetation create comfortable conditions for the owners who are close to nature. There is no place for excessive fussiness and noise, only a sense of peace and security.
Building a house according to the concept of organic architecture does not contradict environmental standards, as it involves minimal interference with the natural balance. Such solutions do not consider the complexity of the natural environment as an obstacle to construction but as the main design feature and advantage.
ORGANIC HOME STYLE IN A DOMIC HOUSE PROJECT FROM AUSTRALIA
This is an extensive private residence hiding in the sandy hills south of Noosa National Park, Queensland, Australia. Functions at home are focused on entertainment, sports, and health. The site itself was a difficult task: it consists of sandy soils, has a steep slope, is located in a zone prone to forest fires, enters the security zone, is exposed to salty air, and has limited access to the streets.
Concrete arches as a structural form minimize the need for interior columns and maximize open spans for windows. They also produced complex shapes, high ceilings, the ability to create organic interior bedrooms and living spaces of an interesting shape, and allowed the landscape to wrap over roofs.