To a lot of people, the French-style home exterior design combines elements of both traditional and contemporary styles. It's a versatile look that is comfortable, timeless, and full of personality.
The French-style home exterior is all about proportionality and symmetry, marrying aspects of classicism and modernity with an eye toward simplicity. Its style echoes the intricacy of traditional homes in France but with an air of graceful elegance. Whether you are restoring a centuries-old gem or creating a new neighborhood French home exteriors with their signature rooflines, dormers, and shuttered windows enhanced by curved balconies can add charm to any property while also making it stand out from the crowd.
Step 1 – Choose an Eye-catching Facade Color
If you are looking to bring the charm of a French Country home to your residence, a well-chosen exterior color palette can go a long way to achieve this. Choosing the perfect facade colors for your French-style home can bring out the uniqueness and romance of the desired style, so it's important to choose wisely when based on its architectural elements. Whether you're aiming for an elegant era look or a modern contemporary style, these tips will help you select paint colors for your French farmhouse that will make it truly stand out from all other residences.
Step 2 – Add Unique Trim Details
When it comes to classic French-style houses, the addition of unique trim details can make a big difference. Adding extra dimension and texture to these rustic homes, such as door and window frames in the French style can create a whole new look. This can be done by simple yet effective trim details that will add something extra to the traditional rustic look of the house.
From decorative moldings to routed edging around windows, there are plenty of options for accentuating the beauty of these traditional homes. Whether you are replacing existing trim or adding new detail, this step is a great way to make your house stand out from the rest and show off your creativity!
Step 3 – Enhance the Patio or Porch Area
If you have the space, why not create an inviting outdoor area for entertaining your friends and family? Here we will look at some patio designs and popular porch styles in France that you can copy for a modern and stylish look. This is the perfect place to relax after a long day or host a small gathering with friends. Whether you plan to decorate it with wooden furniture or light it up for late-night events, you're sure to find something here that will bring your patio or porch area to life.
Step 4 – Install Lush Landscaping & Gorgeous Garden Decorations
Finding the perfect outdoor décor to enhance your home's traditional style may seem like a daunting task, but with the right landscaping and garden decorations, you can make your yard look lush and stunning. Install lush landscaping and gorgeous garden decorations in step 4 of creating a beautiful traditional home. With the right landscape design, you can bring out the best in your home's architectural style, with unique accents that make it truly stand out. From gardens full of plants that complement traditional homes to lighting fixtures and hardscapes that add an extra level of elegance to spaces, there are many ways to upgrade your landscaping ideas for a conventional home.
Tips to Incorporating Key Elements Common in Traditional French Homes into Your Exterior Design
Incorporating traditional elements of French architecture into modern-era homes creates a timeless, elegant design that will stand the test of time. By understanding the element's key characteristics and honing in on those details, homeowners can create a design that will be the perfect representation of their style. From choosing the right materials to using certain techniques, there are many ways to bring elements of traditional French homes into any exterior design. Here are some tips for incorporating key elements common in traditional French homes into your exterior designs today!
Choosing the Right Accents for Your Traditional French Exterior Design
When selecting traditional materials to create the perfect French exterior design, you want to ensure that they are in line with the culture and look of the area. To ensure this, sourcing local building supplies is important – it gives your design an air of authenticity and helps support your local community too. The right accents will allow you to bring out a sense of balance and symmetry in your exterior designs. This includes adding elements such as arched doorways, intricate carvings, or elaborate plasterwork for a truly unique aesthetic within the traditions found throughout France.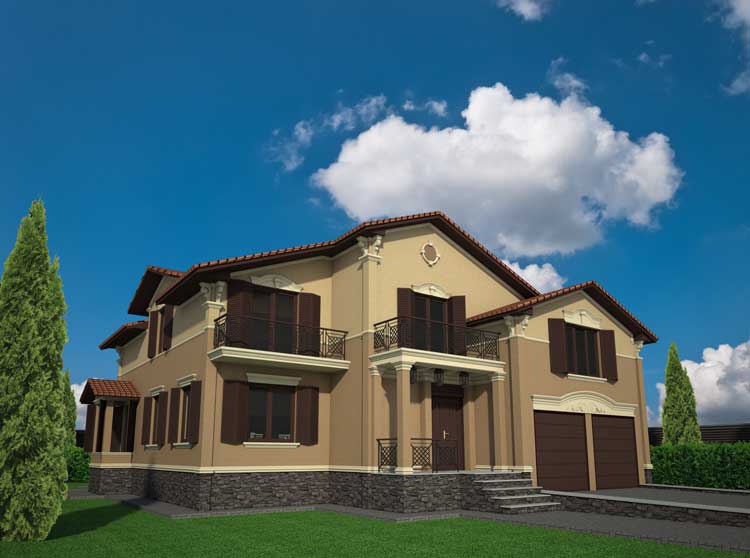 Pulling it All Together – Finishing Touches For That Authentic French Look & Feel
In any French-style exterior design look and feel, décor accents are essential touches to add an authentic flair. Besides emphasizing your design's classical French elements by incorporating a selection of classic materials and colors into your visual palette, pulling it all together requires the most up-to-date décor accents for a high-quality finish.
Décor accents are the perfect addition to complete any French exterior design project and bring a modern yet timeless look to your chosen space. With just a few carefully placed items, you can effortlessly add an elegant old-world European dimension with beautiful architectural pieces such as shutters, hardware fixtures, or unique elements like window boxes or planters. No matter what style you choose for your outdoor oasis, these decorative elements will instantly upgrade your property's value with their undeniable charm.