The steep, dramatic Mediterranean stone house is a system of multifunctional, open living spaces that form a single, self-contained facility for luxury living. The design combines reliability, comfort, coziness, providing close contact with the environment due to the openness of spaces.
We get direct access from the living room to the terrace with the pool, from where the view stretches out to the sea and beyond the horizon. There is no clear border between all these zones. And the outer space and the territory of the house are separated by a spectacular overflow pool.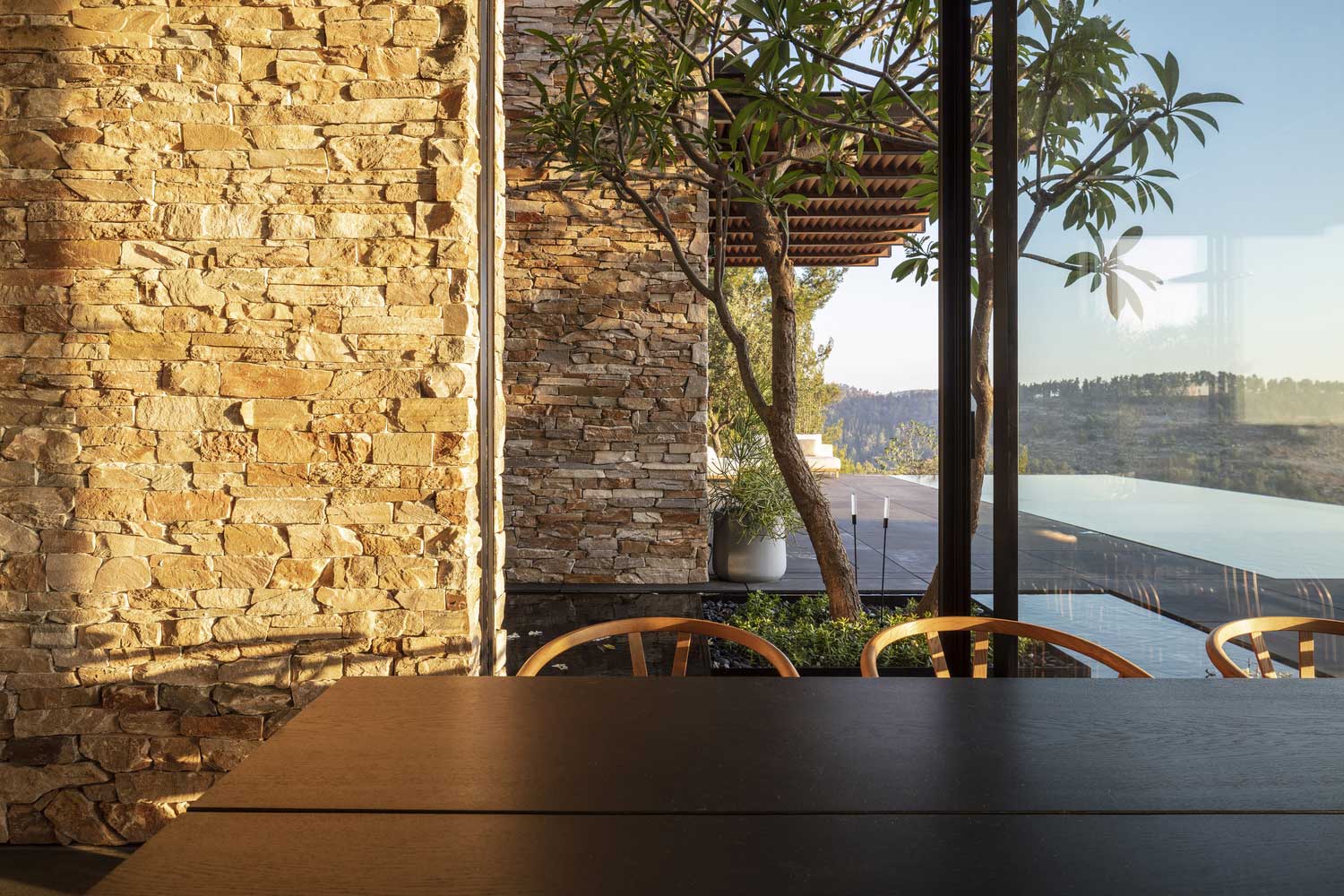 Incredible proximity to nature in a Mediterranean stone house
Your only neighbor in this slope cottage will be nature. In doing so, you will be able to closely contact her. It penetrates into spaces. There is a pond in the small patio with a container with a tree in the center. It seems that nature penetrates into this architecture and even creates it, because all the walls are made of natural stone.
Then we get plantings on terraces, slopes. The Mediterranean stone house is surrounded by greenery, remaining as open as possible to meet wildlife. There are flowerbeds and shrubs on the plot.
The architect of the project, Dana Oberson himself, notes the importance of integrating the object into the environment and a smooth transition from nature to architecture. This was one of the main tasks during the construction. For this purpose, initially the house seems to be one-story, and only from the side of the backyard we understand its entire scale. This is a game of spaces on two levels, where the balance of openness and privacy of housing is observed.
Mediterranean stone house as a reflection of history
According to the architect's idea, the texture of the stone was supposed to reflect the history, symbolize the traditionality of the object on the territory of the agricultural settlement of ArtFacade Ilan in Israel, where the cottage is located. Untreated stones seem to take us back in time, and they create truly stylish, rational living spaces.
At the same time, the stone cottage does not look old and gloomy due to the large amount of glass, bright, open rooms. Due to the floor-to-ceiling panoramic structures, magnificent views of the green areas and the Mediterranean Sea open from here. Rudeness is combined with lightness. The architect managed to achieve a good balance of these qualities.
At the same time, natural, natural colors, dark contrasting elements and figures are used in architecture. It also became part of the integration with the environment. A spacious Mediterranean stone house differs from the usual understanding of architecture by the sea, which is usually dominated by light, sandy, white, beige tones. Here we meet the austerity of dark surfaces, but the openness and plenty of light neutralize the gloomy atmosphere. The premises are secluded and comfortable. And natural wood increases the feeling of home comfort.