In the design of suburban construction, a mandatory element is a terrace. An open area allows you to create a comfortable environment for hanging out in the open air. In this way, residents can take maximum advantage of the location of the building. Original, stylish, spacious housing with a convenient layout – this is a house with a large terrace, which combines practicality and connection with the surrounding landscape.
ADVANTAGES OF THE HOUSE PROJECT WITH A LARGE TERRACE
Exit to the site is designed from the kitchen or living room. This location option allows you to combine the functionality and ease of use of the recreation area. Modern trends in the development of architecture and design deviate from the traditional perception of the concept of "terrace". If before the territory was located exclusively in front of the house or the backyard, today it can be combined.
The main advantages of including a terrace structure in a project include the following factors:
Universal use – the zone can be designed to organize a dining room, a place for barbecue, meeting with guests, a playground, summer kitchen;
 Profitability – the terrace is built using inexpensive materials. The simplest base of durable wood will reduce financial costs while ensuring the durability of the coating;
Improvement of thermal insulation – the design becomes an additional barrier protecting the house from wind, and precipitation;
Direct connection with the landscape – owners of private housing can independently decide which side the terrace will go to, which will allow you to enjoy the beautiful scenery of nature, the green zone.
HOUSE WITH A TERRACE AND LARGE WINDOWS – A MODERN SOLUTION TO THE HOUSE IMPROVEMENT
The architects of TETRO Arquitetura created the inimitable project of Walkway House. The Brazilian house has a spacious terrace with wooden flooring. A design feature is the through binding of the site. Thus, residents can easily move from one room to another through the terrace, which has an open plan. The location is ideal for organizing a dining area. From all sides the territory is covered with tall trees, perfectly obscuring the passage.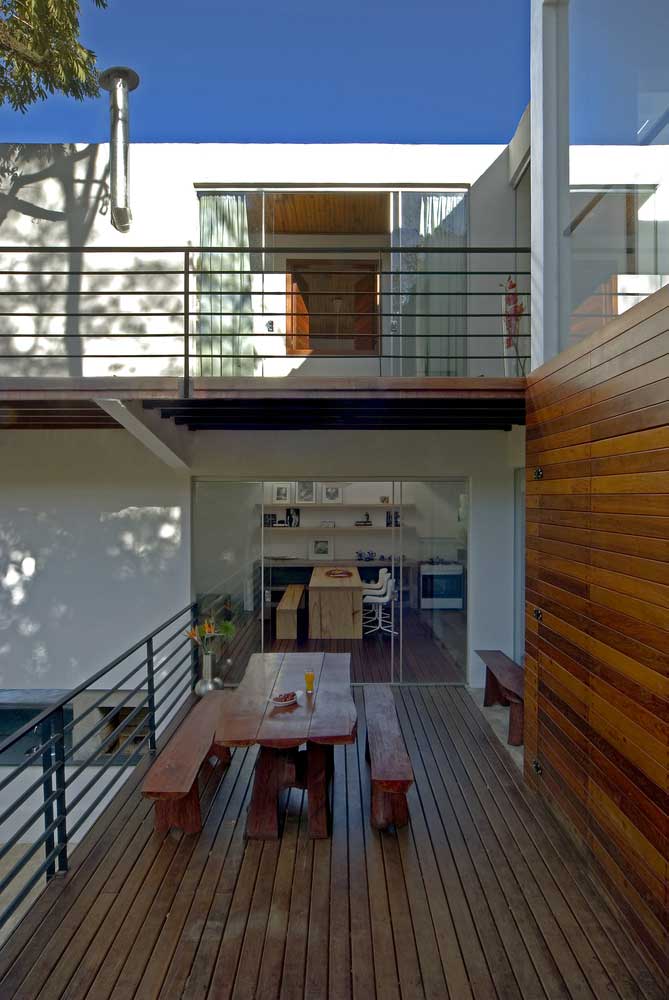 A terrace is provided on the first and second floors, which visually enlarges the area of the house. Each level is reserved for a specific purpose. The ground floor is a continuation of the kitchen as if creating an open living room. On the second level, the terrace serves as a transition between rooms.
For climatic zones with cold winters, glazing should be provided. With proper protection, the veranda can be used as the main resting place, despite the severe frosts outside the window.