The aesthetics and functionality of interior design have been revolutionized by the innovative use of materials such as Wood-Plastic Composites (WPC). WPC wall panel designs, in particular, have gained popularity due to their durability, adaptability, and visually pleasing characteristics. In this article, we delve into seven unique WPC wall panel designs that can enhance the look of your home while providing a practical, long-lasting solution.
Textured WPC Wall Panel in Bedroom
This photograph presents a textured WPC wall panel adorning the wall of a bedroom, adding an element of luxury and sophistication. The panel's texture is intricate and detailed, giving the room a rich and opulent feel. The way the panel catches the light adds depth to the space, creating a visually appealing backdrop for the room's decor.
The WPC wall panel in this design effectively mimics the feel of a carved wooden panel. It beautifully captures the intricate details and the tactile quality of carved wood, bringing an element of classic elegance to the room. But unlike real wood, this panel won't warp, rot, or become infested with termites. It maintains its stunning appearance without the need for regular maintenance or special care.
This textured WPC wall panel design is not only a feast for the eyes but also a functional addition to the bedroom. Its insulating properties can contribute to a more comfortable room temperature, which can be particularly beneficial in a bedroom. By helping to keep the room warm in winter and cool in summer, the panel can enhance your comfort and possibly reduce your energy bills.
The panel's sound-insulating properties are another practical benefit. By reducing external noise, the panel can help create a more peaceful and serene environment, which can contribute to better sleep quality. Plus, its easy-to-clean nature makes it a practical choice for a bedroom, where cleanliness and hygiene are paramount.
On top of all this, the WPC wall panel is an eco-friendly choice. The materials used in the panel are often sourced from recycled or reclaimed sources, making it a sustainable choice that is kind to the planet.
To conclude, this textured WPC wall panel design is a stylish, practical, and sustainable choice for your bedroom. Its visually appealing design and functional benefits make it a great way to add a touch of luxury to your space, while its eco-friendly nature makes it a choice you can feel good about. Whether you're redecorating your bedroom or just looking for a way to enhance its appearance, this WPC wall panel design could be the perfect solution.
Classic WPC Wall Panel in Living Room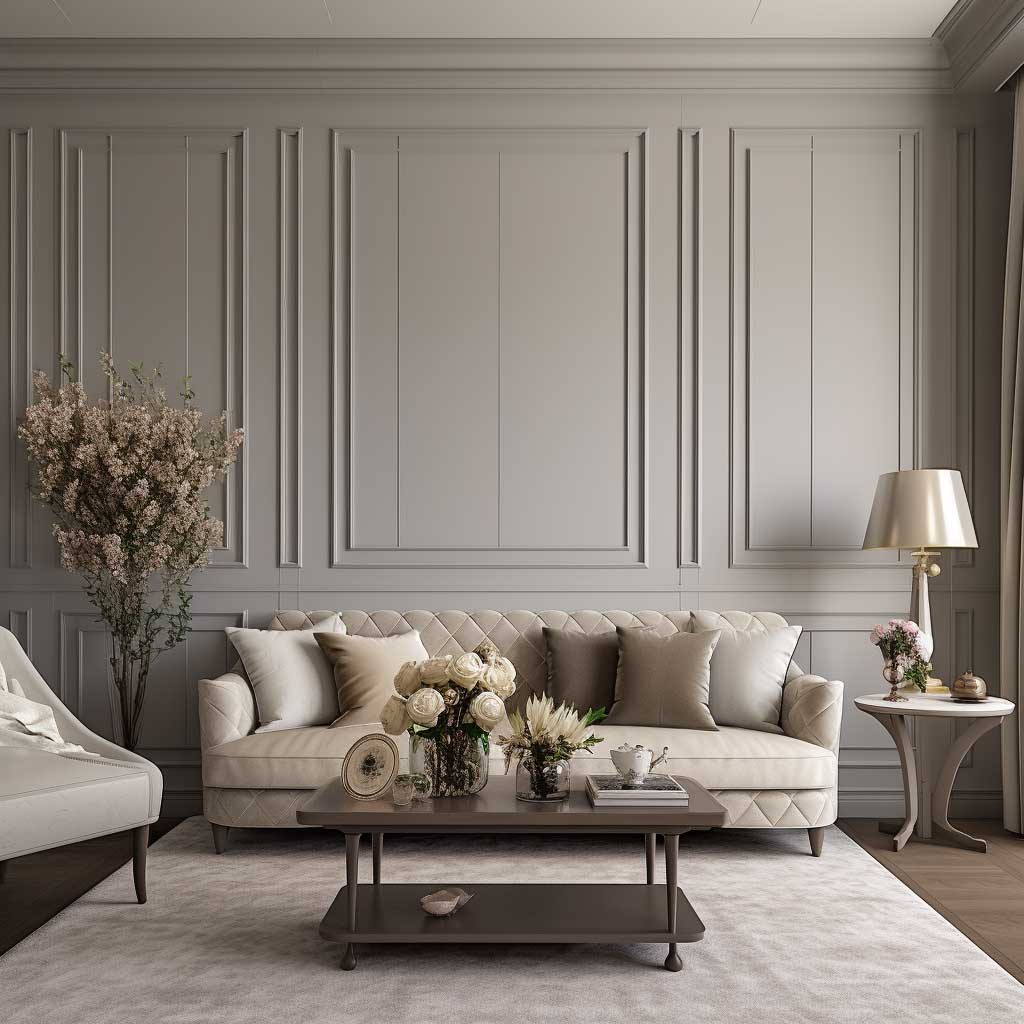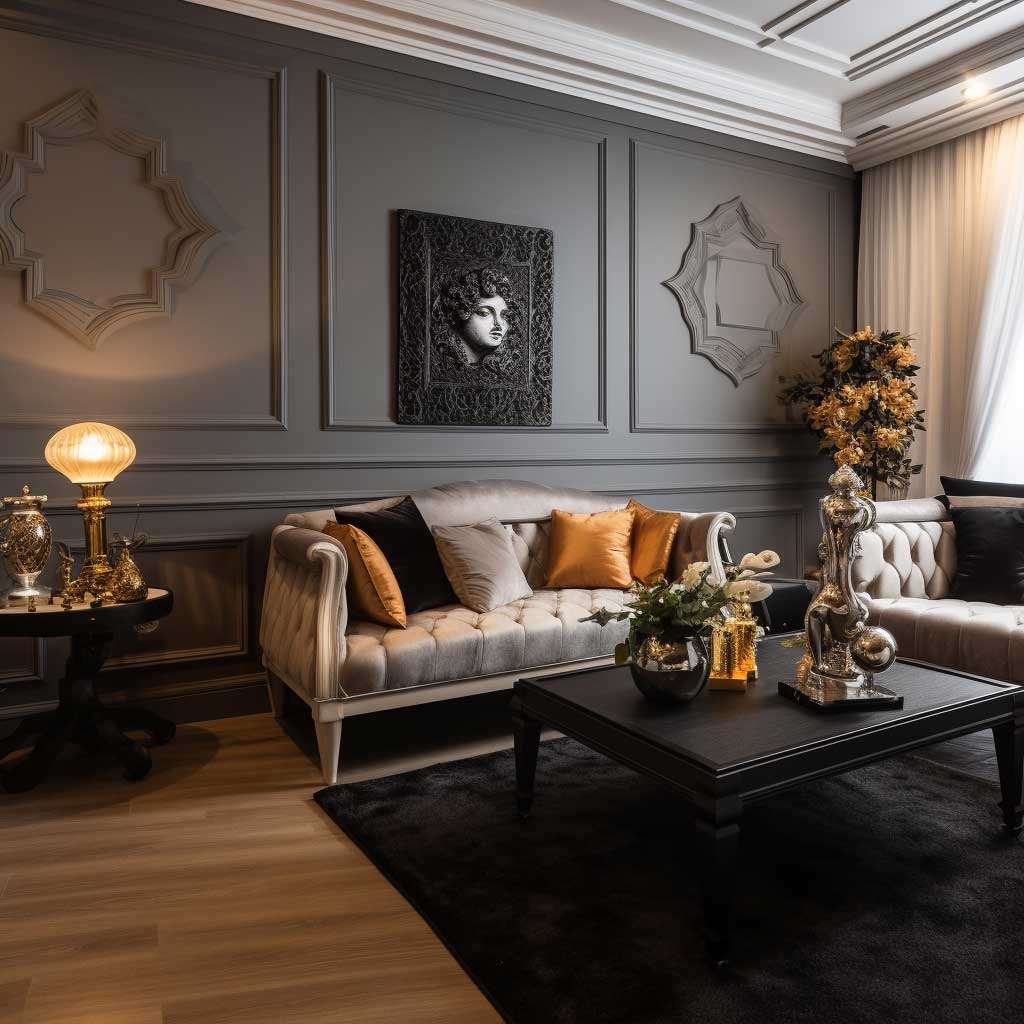 The WPC wall panel design depicted in this photograph is a classic interpretation of this versatile material. The panel has been used to create a feature wall in the living room, immediately attracting attention with its warm, wooden finish. The immediate effect is a depth of character added to the space, a touch of authenticity that grounds the room with a welcoming atmosphere.
WPC, or Wood-Plastic Composite, is a material that combines the traditional allure of wood with the durability of plastic. In this design, the WPC wall panel emulates the aesthetic appeal of real wood, beautifully capturing its natural grooves and grains. But unlike wood, this panel is immune to termites, decay, and warping, offering a maintenance-free solution that doesn't compromise on beauty.
The panel is a rich, warm shade that gives the room an inviting and homely feel. This hue complements the room's existing color scheme, blending seamlessly with the furnishings and décor. The result is a space that feels unified and harmonious, fostering an atmosphere of peace and relaxation.
Beyond its visual appeal, the WPC wall panel is also very functional. Its water-resistant nature makes it ideal for homes with children or pets, where spills and splashes are frequent occurrences. It is easy to clean, requiring only a damp cloth for most stains and spills, making it a practical solution for busy households.
Moreover, the panel's sound-insulating properties contribute to a quieter, more peaceful living space. This makes it a fantastic option for urban homes, where external noise can be a nuisance. The insulation also improves the home's energy efficiency by helping to regulate the temperature within the room, potentially leading to reduced heating and cooling costs.
In addition to all these benefits, WPC wall panels are also environmentally friendly. The wood used in the composite is often sourced from reclaimed or recycled sources, and the plastic components are also recyclable. This makes the WPC wall panel a sustainable choice that is kind to the planet.
Overall, this WPC wall panel design is more than just a decorative feature. It is a fusion of aesthetics, functionality, and sustainability. It offers the visual appeal of wood without its downsides, providing a durable, practical, and eco-friendly solution for modern homes. Whether you're redesigning your living room or just looking to add a touch of warmth to your space, this WPC wall panel design is an excellent choice.
Modern WPC Wall Panel in Home Office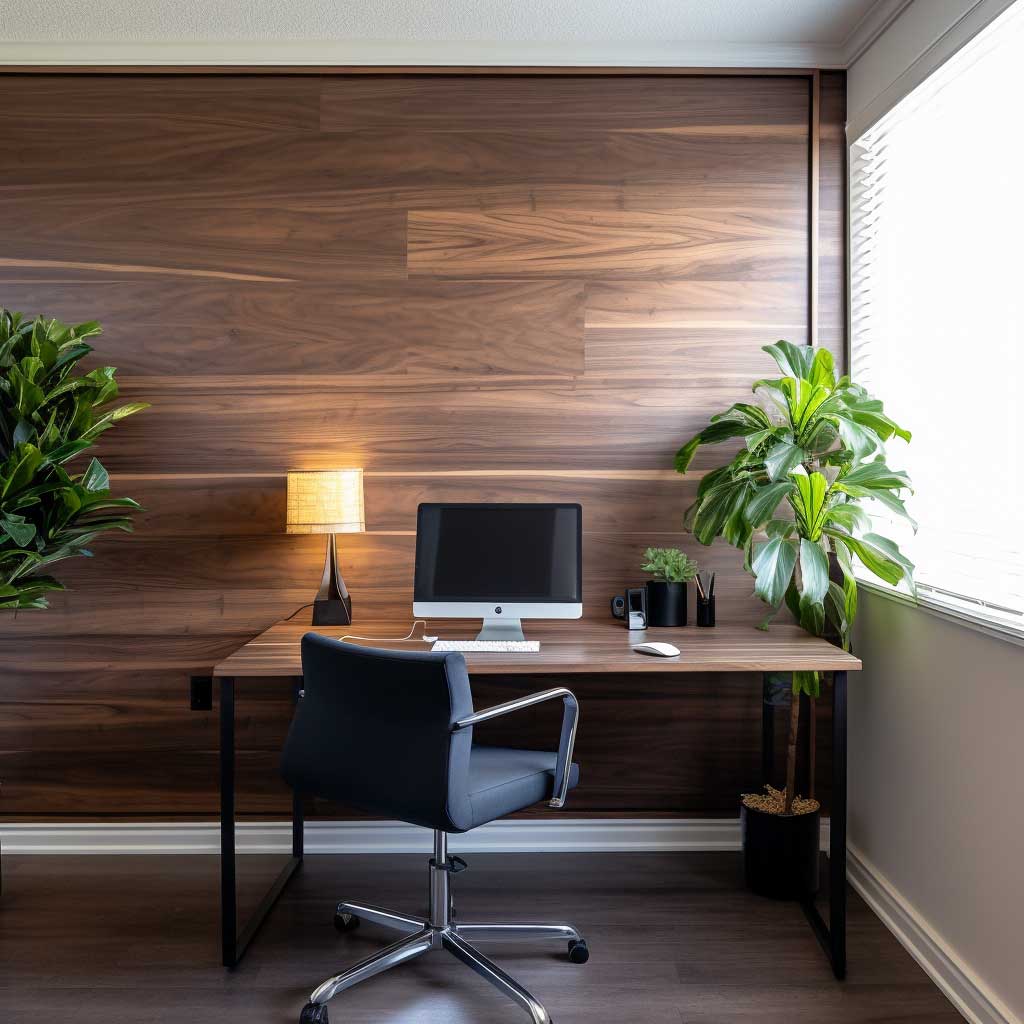 The WPC wall panel design showcased in this photograph is a sleek, modern addition to a home office. The panel's clean lines and minimalist aesthetics perfectly embody the spirit of productivity and focus that such a space requires. At the same time, the warm, wood-like texture of the panel adds a touch of comfort, ensuring the space doesn't feel too sterile or impersonal.
One of the key features of this WPC wall panel design is its modern appeal. The smooth, uninterrupted surface of the panel contributes to a clutter-free environment, minimizing distractions and fostering focus and concentration. The panel's light color keeps the space looking bright and open, creating an uplifting atmosphere that can enhance productivity.
But this WPC wall panel design is more than just a stylish addition to the home office. It also offers several practical benefits. The panel's durable nature means it can withstand daily wear and tear, making it a smart choice for a frequently used space. Plus, its water and stain resistance make it easy to maintain, ensuring it continues to look its best even with minimal upkeep.
Moreover, WPC wall panels have excellent sound-insulating properties. This can be particularly beneficial in a home office setting, where reducing noise can help maintain a focused and productive work environment. Whether it's the sound of traffic from outside or the noise of household activities, the panel can help keep these distractions at bay.
The environmental benefits of WPC wall panels also extend to this design. As with other WPC products, the wood and plastic used in these panels are often sourced from recycled materials. This means that by choosing this design, you're not only enhancing your home office but also making an eco-friendly choice.
In summary, this modern WPC wall panel design is an ideal choice for a home office. Its sleek aesthetics, practical advantages, and environmental benefits make it a smart, stylish, and sustainable choice for your workspace. Whether you're working from home full-time or just need a quiet space for occasional work, this design can enhance your productivity while adding a stylish touch to your space.
Conclusion WPC wall panel designs offer an innovative solution to traditional interior design challenges. They blend the visual appeal of wood with the durability of plastic, creating designs that are versatile, long-lasting, and incredibly stylish. Whether you're looking for a classic look for your living room, a modern design for your home office, or a textured appeal for your bedroom, WPC wall panels have a solution that caters to your unique needs.