The exterior of a modern country cottage is laconic and neat without unnecessary decor and intricate designs. But at the same time, if you want to give the building a touch of solid, comfortable, family housing, attractive House Front Decoration Ideas with the help of decorative elements and finishes are used here.
They mustn't be too massive or variegated. In addition, here it is worth emphasizing the practicality and functionality of such a decor.
House Facade Decoration With Colored Stucco
Traditionally, we are accustomed to the fact that stucco molding is made in white. But in the modern design of houses, a progressive version of this decor is dark, contrasting colors are used. Even with minimal use of decorative elements, they will stand out stylishly and effectively due to the color.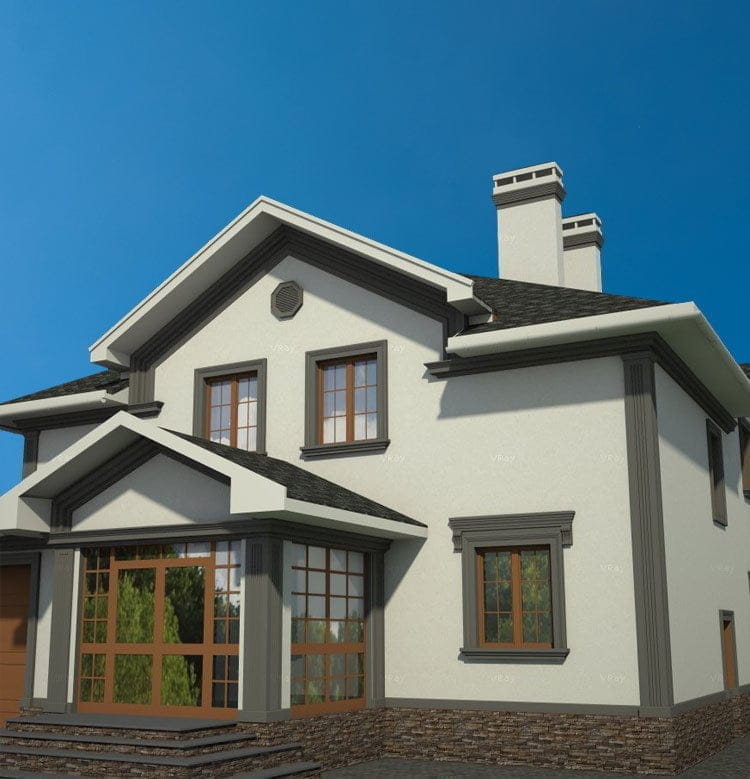 In addition, dark, contrasting stucco molding is also stylish in the context of modern design. Outwardly, the house turns out to be dynamic, original, and fashionable. In addition to this, the facade is also painted in trendy colors, but a few shades lighter than the decor.
Glass as an Idea for Home Exterior Decoration
A large glazing area using modern glass with a mirror design becomes not only a functional element of a country house but also a stylish addition to its appearance. Glass makes the massive building seem light and open.
Since it is customary to make ordinary windows in a house with a traditional configuration, the panorama can be arranged on the terrace near the entrance. You can also provide panoramic glazing of a balcony or loggia. Here, the design is dominated by straightforward, laconic forms, so it turns out to focus just on glazing and large windows.
Home Facade Decorating Idea With Cladding
Combine two or three finishes when decorating your home. Use facing bricks next to the plaster. It can match the tone of the house or stand out in contrast. The last option looks more modern, fresh, and dynamic. Brick will emphasize the quality of the cottage, it is practical, therefore it is especially suitable for finishing the lower part of the building.
Modern ideas for decorating the facade of the house transform a traditional, classic object into an ultra-trendy, dynamic cottage that matches the latest trends. Such decor is distinguished not only by a stylish appearance, but also by practicality, functionality, expanding the possibilities of residents.