How did you manage to combine the traditional facade of a two-story brick house with features of the deconstructivism style – a photo of the project with a description.
The architectural bureau ALT architectuur presented a project of an extraordinary mansion, which combines elements from almost opposite, disparate directions. The house was erected in a deconstructivist style atypical for residential private construction using traditional material – brick. Usually, monolithic concrete, metal, and glass are involved in this direction – but such templates were radically abandoned in the presented project. In this case, the architects proposed to supplement the facade of a two-story brick house with a roof stylized as brickwork – an extravagant solution that turned the cottage into an object of modern art.
The gable asymmetric roof is covered with tiles stylized as a brick – the house not only looks like a bunker but also has high operational qualities. It is energy efficient and is resistant to external factors – temperature, wind, and humidity. It maintains a comfortable microclimate at any time of the year and in any weather.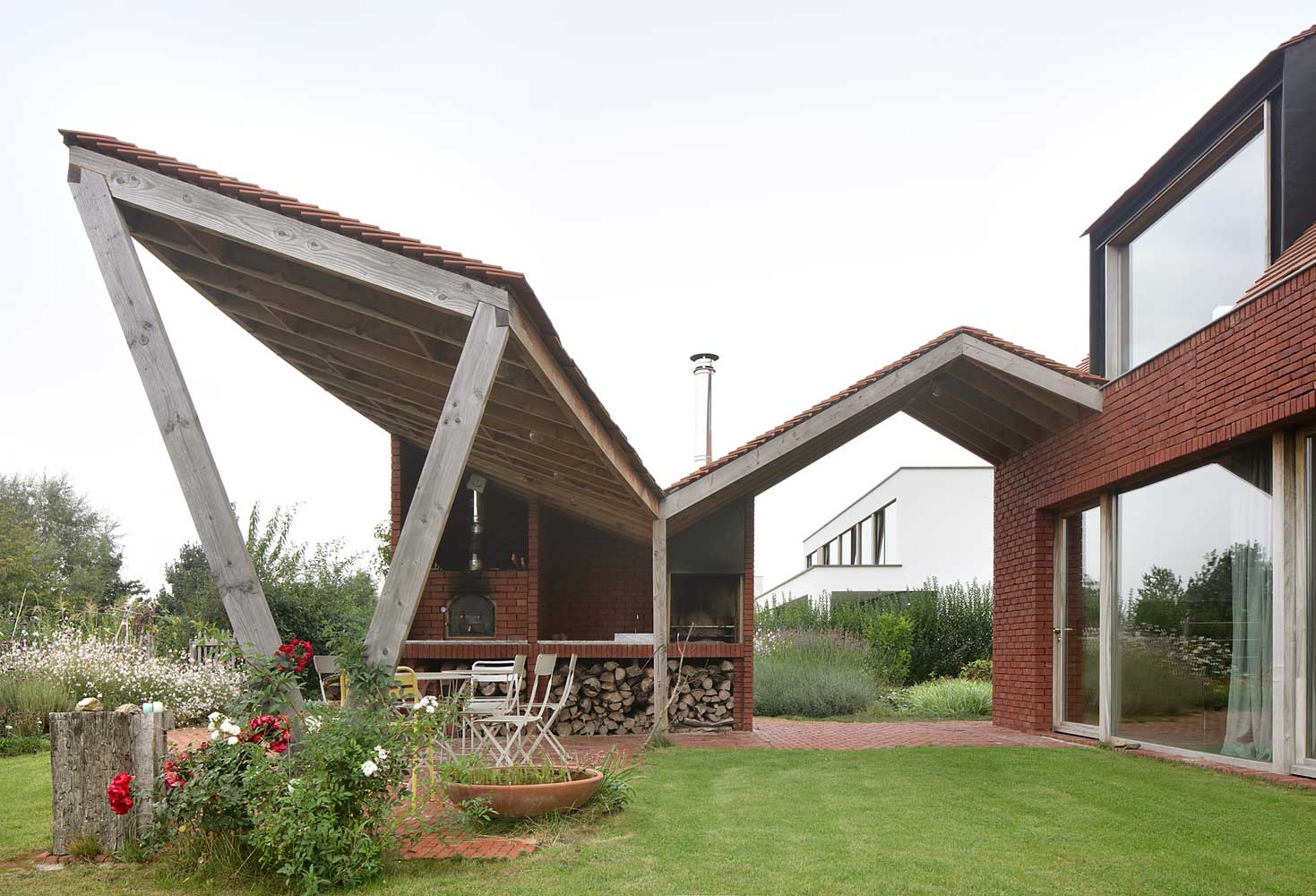 At the same time, the architects did not overdo it with extravagance, making the facade of a two-story brick house traditional features for local rural construction. So the object stood out but did not stand out from the general picture, the landscape of the countryside
The asymmetry of the roof and each broken line of this design is not made for beauty but has a specific functional purpose. Under the roof, there are sleeping rooms, and nurseries. The special design of the roof made it possible to make these spaces as comfortable as possible, to achieve optimal daylight, space, and appearance.
The unique shape of the roof also made it possible to make the interior exclusive with a gable ceiling, repeating the shape of the roof. It looks especially impressive in the living room with a second light. Gable asymmetrical ceiling provides expansion of space. The windows on the second floor are made in niches – the design looks complex and spectacular – to match the rest of the interior and the unusual facade of a two-story brick house.
Brick-in-private construction is a symbol of reliability, comfort, and safety. Outside, the entire facility is a solid brick, unshakable structure. And inside is light and light living space. Architects achieved this through a warm, soft finish made of natural materials, and a large amount of glass. Well-designed open and private spaces provide convenience for a family.
The presented facade of a two-story brick house looks like a fortress of an unusual shape. But at the same time, the object is distinguished by home comfort and quite harmoniously fits into the rural, natural landscape.