The house with round windows is a kindergarten project in the best European trends. Features of architecture, photo, design and layout of a social object.
The architectural bureau Schmid Ziörjen Architektenkollektiv presented a modern kindergarten with a very unusual architecture – this is a house with round windows. The building is designed in a minimalist style with an emphasis on environmental friendliness. It is located in Dietikon (Switzerland) and is fully consistent with the principle of wealthy Europeans – convenience, functionality and conciseness. Architects also prioritized the comfort and reliability of the property.
features of the layout and architecture of the house with round windows
Architects successfully structured the space, clearly dividing the buildings into two sections. Each of them is intended for a separate group of children. At the same time, a common playground was created between them – so children from different groups will not be completely localized from each other. Due to the ability to communicate and play not only in the circle of their group, children have the opportunity to develop sociability, become active and full members of a modern dynamic society.
The space is made as open and free as possible. Symmetry is clearly traced, and round windows became accent points here. They are mostly made as decorative elements. Due to them, rather strict, as for the usual kindergarten, the building takes on unusual features.
The zoning of the space is done using natural materials, different ceiling heights, and lighting. It has classrooms, a wardrobe, and a bathroom. These rooms are located in each section and are designed symmetrically to each other – the severity and accuracy characteristic of the Swiss. In classrooms and playrooms, high-quality insolation is ensured due to the large glazing area.
The building has a system for automatic adjustment of air circulation and thermal protection. Due to cooling and airing at night, the object maintains a pleasant microclimate throughout the day with minimal use of climate technology.
uniqueness of design
The kindergarten was the result of a flight of imagination of architects and designers who realized it in the form of a house with round windows. With rigor and conciseness, the object looks quite unusual, and not just as a typical social building.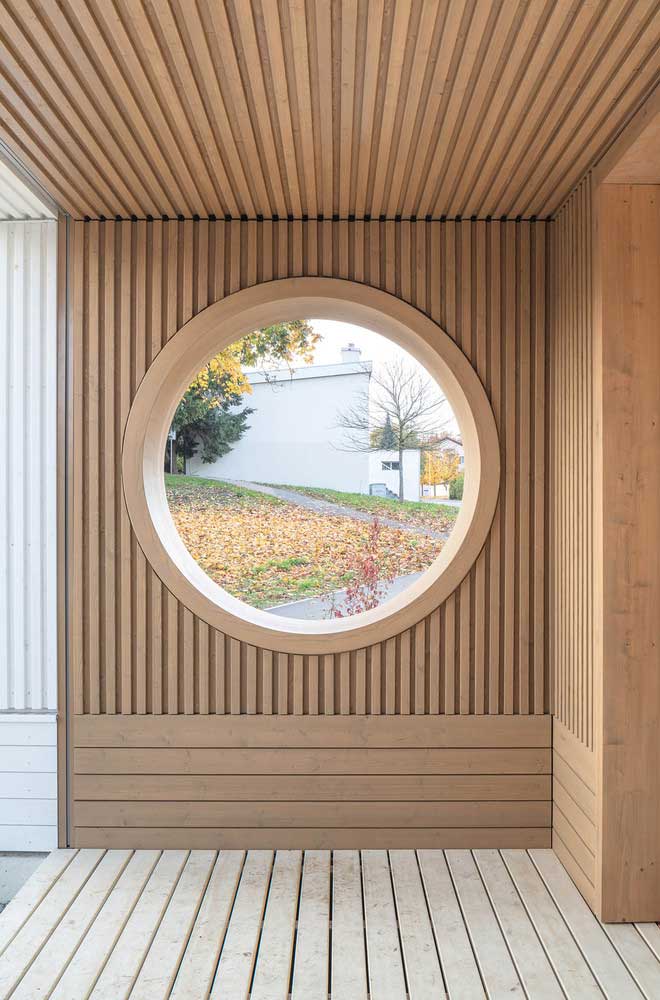 The object is made in pleasant, calm pastel colors against a white background. A natural palette is used, which is not annoying, but also does not cause a feeling of melancholy.
In fact, this house with round windows is quite straightforward – there are practically no curved lines, bends. In this setting, round openings in the walls look especially advantageous. They dilute the interior from monotony, make it boring and creative. Such windows are the first thing that catches your eye in the building. This architectural technique is not in vain made in the kindergarten – it contributes to the development of logic, creative inclinations and simply acts as a decoration.
Presented by Schmid Ziörjen Architektenkollektiv architectural bureau, the house with round windows reflects the best European architectural trends. Strictness, conciseness and functionality with a touch of originality and creativity. Compliance with these principles allowed us to implement a rational, safe and comfortable social object.